Ninth annual Women's Leadership Forum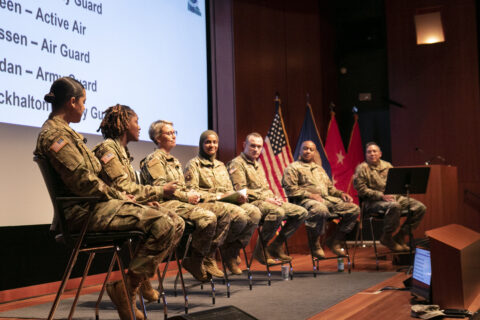 The Minnesota National Guard hosted the 9th Annual Women's Leadership Forum, Saturday, September 17, at General Mills Headquarters in Golden Valley, Minnesota.
"Truly having senior leaders who not just support but advocate for the ability of us to gather to learn together to be our authentic selves is critical as we all develop as leaders," said Maj. Gen. Johanna Clyborne.
The goal of the annual event is to promote an inclusive culture and provide professional leadership development for women and men of all ranks to reach their full potential.
The theme for this year was "The Bridge of Barriers: Persistence." Throughout the forum, participants learned how challenges in work and life can build perseverance within each of us to be able to grow and advance in our leadership journey.
Dr. Amelia Reigstad was the keynote speaker. She also led a breakout session titled "Avoiding Burnout". Reigstad is a workplace communication consultant among other things. She also founded The Women Empowerment Series, where she inspires and encourages women to use their voice to initiate change.
"We are all leaders," said Registad."But we all lead differently, we're not able to change a person's personality traits but we can look at our communication styles. We have the ability to adapt and to modify our communication style to have more effective communication with that individual."
More than 300 service members attended the forum in person and virtually. Throughout the day, they learned about the value of mentorship, career mapping, silencing self-doubt, and how to grow better, not older.
"It's important to be here because you can get to know your fellow female Soldiers," said Spc. Nilyma Priyanka, Bravo Company, 334th Engineer Battalion. "You can talk to the leaders and build a better community for women."
Some even took advantage of the one-on-one speed mentorship sessions where they had an opportunity to sit down with several key leaders within the Minnesota National Guard and discuss individual goals and how to get there.
"The Women's Leadership Forum makes me a better leader, human and Soldier," said Capt. Nick Vogel, 2nd Battalion 135th Infantry Regiment. "I learned why it is important to continue to diversify our force, lead with curiosity, and foster inclusivity."