No goal too big, no task too small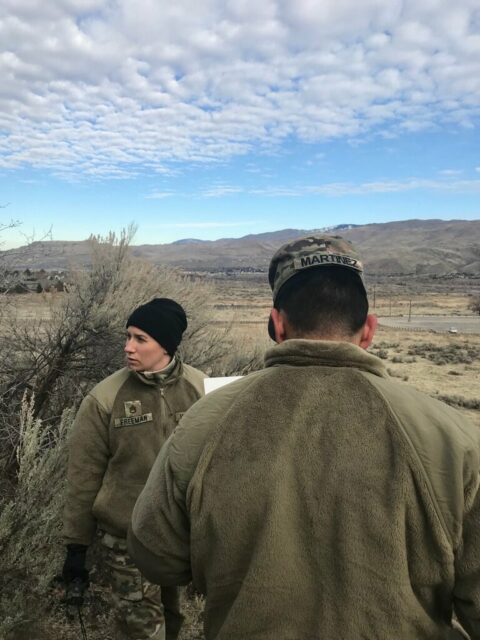 MARCH 1, 2019 (ST. PAUL, Minnesota) — Staff Sgt. Kayla Freeman, the assistant to the senior enlisted advisor for the Minnesota National Guard, has accomplished one of the most difficult goals in her military career, becoming a cavalry scout. Military occupational specialties in combat arms were closed to women prior to 2016.
Freeman has always wanted to do more in her military career, she said. She is a full-time Soldier and has a long-term goal to become the senior enlisted advisor.
"I have also always had a passion in helping others and accomplishing this goal isn't just for me, but also in hopes to help pave the way for future female leaders," Freeman said.
The school to become a cavalry scout is difficult. Soldiers must complete the physical tasks of conducting a 12-mile ruck march as well as qualify on multiple heavy weapon systems, both under time constraints. The school also tests Soldiers mentally through written knowledge-based tests.
"Every day was a challenge and the biggest of those challenges was simply not knowing, and waking up every day to the unknown of what the day was going to bring and how much I had known of the tasks that had to be accomplished that day and how much I had not known," Freeman said.
To prepare for this school, Freeman took the initiative to reach out to specific people who could help her prepare in different areas. She worked with an officer to conduct weekly ruck marches in St. Paul. She contacted a master gunner to collect study material for weapon systems, as well as to train on various heavy weapon systems to familiarize herself with them before heading off to school.
Freeman was the only female in her class, and most of the men attending the school have military occupational specialties in combat arms and were familiar with the equipment and vocabulary associated with a cavalry scout. Freeman's background is in human resources, so it was a little more challenging for her.
"I needed to allow myself to be open in asking all the questions that I could and being sure that I left each day understanding, so that I did not fall behind," Freeman said.
Freeman has served in the Minnesota Army National Guard for 12 years so far, and becoming a cavalry scout has been one of the biggest accomplishments of her military career.
"It was actually very surreal, especially because I had come across a lot of challenges throughout the course," she said. "And I did not know that I was capable of accomplishing such a big, difficult goal that I had set for myself. And it was probably one of the most rewarding things that I have done for myself throughout my military career."
The Minnesota National Guard provides many opportunities for Soldiers to grow and progress in their military careers. New challenges are difficult by definition, but can be overcome with discipline and persistence.
"The advice that I would give to anybody accomplishing a difficult goal for themselves is to really be okay with the most uncomfortable feeling and to really dig deep and push past that and that you can accomplish anything that you set your mind and your heart to," Freeman said.
Photos courtesy of Staff. Sgt. Kayla Freeman
Story by Sgt. Sebastian Nemec