Norway, Minnesota celebrate 49th troop exchange, years of partnership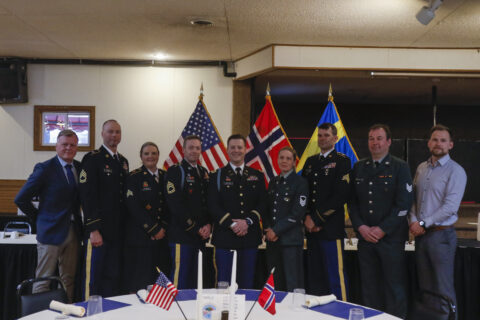 The 49th Norwegian Reciprocal Troop Exchange (NOREX) came to a close on April 7, 2022, as more than 100 Soldiers and Airmen from the Minnesota National Guard departed Norway to return to Minnesota.
NOREX is the longest-running military partnership between two nations starting in 1974; however, unfortunately, due to the COVID-19 pandemic did not occur in 2020 and 2021.
"Being able to execute this mission and strengthen bonds between our two countries was a very special experience," said Minnesota National Guard Army Major Tracy Mankowski, the officer in charge of the American contingent that traveled to Norway for NOREX 22, who was pleased the exercise was able to go on this year.
While in Norway, the Minnesota National Guard conducted winter operations training with the Norwegian Home Guard, who are known as Heimevernet. Minnesota Soldiers and Airmen spent five days in the cold winter countryside of Norway. During their field training exercise, Minnesota Guard members learned how to cross-country ski, survive in the field during winter, travel by skijoring, and participated in a polar plunge into a cold mountainside pond.
Once they returned from the field training exercise, the Minnesota National Guard Soldiers and Airmen hosted an "American Meal" for the Norwegians. The American meal consisted of walleye and steaks donated by the Saint Paul-based civic organization, Serving Our Troops.
The Norwegians hosted a Viking day by first taking the Soldiers and Airmen to learn about Viking culture at the Stiklestad Museum, followed by competing in Viking games and a meal of traditional Norwegian food.
This exchange promotes goodwill and sharpens military readiness between the nations while providing opportunities for cultural understanding among its participants.
"Conducting challenging training in a harsh winter climate creates a unique experience that bonds participants," said Mankowski, who believes the exercise is a great opportunity to build trust and friendships. "As this exercise wraps up, Soldiers and Airmen from both countries will remember the trust and mutual respect that comes from overcoming obstacles together. From this experience, we learned to encourage each other to help each of us find our strength, even when skiing for the first time down a mountain."
Before the Minnesota Soldiers and Airmen departed, a farewell banquet to thank the Norwegian Home Guard for their generosity, commitment, and continued friendship, completed this year's exchange.
"We can share in the same inside jokes and smile at the same fond memories," said Mankowski. "We started the exercise off as partners and allies but left it as something more — true friends."
By Army Capt. Jodine Eells
Minnesota National Guard Public Affairs