Officers convene for 112th Meeting of the National Guard Association of Minnesota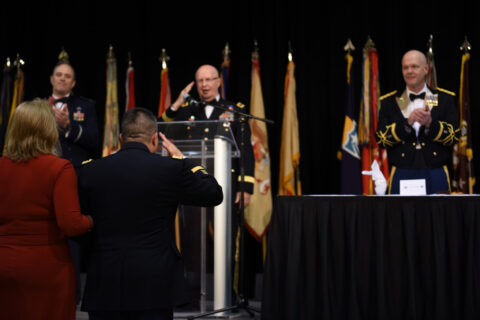 By Staff Sgt. Patrick Loch
Minnesota National Guard Public Affairs
MANKATO, Minn. (April 28, 2017) – Commissioned leaders of the Minnesota National Guard convened for the 112th General Conference of the National Guard Association of Minnesota at the Verizon Wireless Center and Hilton Garden Inn, Mankato, on April 22, 2017.
The annual gathering of association members – who serve as advocates for the needs of Soldiers, Airmen and their families – includes a business meeting, commanders march, formal dining event and transfer of responsibility to the chapter's new president.
The day's event began with a business meeting, which focused on the association's mission of educating and informing legislators on the issues facing the current and future role of the National Guard in serving Minnesota communities. The strategic planning meeting was attended by Minnesota National Guard Adjutant General Maj. Gen. Richard Nash, his staff and unit commanders.
Following the meeting and a brief reprieve, officers and their guests gathered for the formal dining event which began with the commanders march. This time-honored tradition showcases officers-in-charge of each of the Minnesota National Guard's major commands marching into the dining hall and presenting themselves to the adjutant general.
Following dinner and entertainment – this year provided by a dueling guitars performance – the outgoing and incoming presidents gave their remarks.
"Chief Warrant Officer 5 Brent Jensen please come forward as the next president of the Minnesota National Guard Association," said Col. James Wentzlaff, outgoing commander of the Minnesota chapter. "It is my distinct honor to pass the gavel and association Marquis de Lafayette medallion to our first-ever Chief Warrant Officer association president!"
"Colonel Wentzlaff, on behalf of the association, I thank you for your steadfast leadership this past year as president," said Jensen. "Your … proactive legislative coordination at the state and national levels have placed the association on a solid trajectory for future years."