Planting for the Future Event Cultivates Culture, Education & Opportunity at Camp Ripley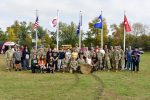 Sept 20, 2019 (CAMP RIPLEY, Minnesota) – Members of the Minnesota National Guard welcome students and tribal members to Camp Ripley Sept. 20, 2019 for a day of cultural exchange and greetings.
The event, known as 'Planting for the Future' included the harvesting of sage from the grounds on Camp Ripley by participant including Ojibwe High School students, the planting of other prairie wildflowers as well as the explanation of how the plants are used by the Anishinaabe culture.
"It was fun to split up into groups with a variety of Service-members, students, environmental professionals and tribal leaders to spend time together getting our hands dirty and increasing our understanding of one another," said Josh Pennington, Camp Ripley Environmental Supervisor.
A sage harvesting field trip has occurred for the past several years organized by the Bug-O-Nay-Ge-Shig School of the Leech Lake Band of Ojibwe. Initially they requested access to Camp Ripley to harvest sage as a component of their cultural curriculum. Now after many years of fruitful events the harvest will include additional tribal communities from across Minnesota. Several natural prairie plants, which are native to Central Minnesota, are used for cultural and spiritual reasons by indigenous peoples.
"To those who live in the traditional way, there are four plants which are especially revered and used in daily living. The creator taught us to use the natural herbs of sage, sweetgrass, tobacco, and cedar smoke as a physical reminder to them of this omnipotent presence. It is the sacred way," states an excerpt from an Anishinaabemowin website http://anishinaabemodaa.com/
A cultural exchange organized through inspiration from the Mille Lacs Assistant Tribal Preservation Officer helped to increase understanding of traditional Anishinaabe culture through participation as well as provided youth with information on opportunities within the Minnesota National Guard.
"We are here to learn from each other. Ask questions, tell stories and enjoy this time of giving you never know what you might learn," added Terry Kemper, Assistant Tribal Preservation Officer for the Mille Lacs Band of Ojibwe.
Students form the Bug-O-Nay-Ge-Shig School, Onamia Public Schools and Nay-Ah-Shing Schools participated in the events on a beautiful, sunny, Friday morning along with several National Guard members from Camp Ripley, the Minnesota National Guard and the recruiting battalion. Those in attendance represented several communities throughout the Mille Lacs Band of Ojibwe and Leech Lake Band of Ojibwe Tribes.
"I was completely enamored by the whole experience. The entire day was filled with new experiences for me personally as this was my first real exposure to Native American culture," said Lt. Col. Eduardo A. Suárez, Minnesota National Guard Recruiting and Retention Battalion commander.
Throughout the day, members of the Minnesota National Guard worked with Native American Students to plant traditional prairie plants and to harvest sage from the grounds on Camp Ripley. They broke up into several groups to cover a large area near the Mississippi River running on the installation east boundary.
"It was a pretty neat experience to be able to embrace the culture and share my own experiences as a Native American with the youth," said Sgt. First Class Jessica Stiffarm of the Minnesota National Guard. "I like being able to potentially help shape someone's future by sharing what I know about the National Guard," continued Stiffarm.
"Terry Kemper did an artful job of bringing awareness and understanding of the culture to both those in uniform and the students. It was also inspiring to speak to the young people about their ambitions following high school," added Suárez.
Less than one percent of the tall grass prairie that once stretched across central and southern Minnesota remains today. Camp Ripley has several thousand acres of grassland communities that serve as a representative sample of a tall grass prairie landscape, while also providing the military access to sustainable military training.
"I needed a day like this," said Public Engagement Liaison Allissa Waukau, representing the offices of the Minnesota Governor and Lt. Governor. "This is such a beautiful day and a beautiful location next to the river, I'm so thankful this is here."
For several years Camp Ripley has been conducting a prairie restoration on a site in the cantonment area highly visible near an outdoor amphitheater and running and cross country skiing trail. This year, it was decided to combine the next phase of prairie restoration with an event to increase understanding of the sacred role these plants have in Native American culture.
"This was a great learning opportunity for us," said Patrick Neumann, cultural resource manager on Camp Ripley. "It will help us as we move forward with our prairie restoration project and how we can help sustain resources used by our neighboring communities," he added.
The level of collaboration to plan and facilitate the event was successfully achieved with the help of the Camp Ripley Joint Visitors Bureau, MNARNG Diversity and Inclusion program, MNARNG Recruiting, and the Camp Ripley Environmental Team.
"An event like this requires out of the box thinking and participation from everyone in order make it a success," added Pennington.
Since it does not fall under any traditional funding or office responsibility, the Camp Ripley Environmental Office applied and was awarded a National Public Lands Day grant through a partnership program between the DoD Legacy program and the National Environmental Education Foundation. These funds were used to purchase plants that are native to central Minnesota tall grass prairies.
Students and soldiers learned about the roles these plants play in the Anishinaabe culture and were given the opportunity to demonstrate gratitude together. Plants such as sweet grass and sage play a sacred role in the lives of the Anishinaabe people. To learn about this culture and participate in the physical restoration of these plants to the landscape was a meaningful endeavor that stretched well beyond the ecological value of prairie restoration.
"The part I enjoyed the most was walking around and getting to plant the different plants while talking to the youth about their back ground, their families and what they like to do," added Stiffarm.