Power of One run brings resilience, suicide prevention and wellness to Guardsmen, families and community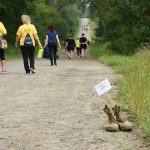 September 15, 2019 (ARDEN HILLS, Minnesota) — The Minnesota National Guard hosted a Power of One wellness 5k event, September 15, 2019, at the Arden Hills Army Training Site.
"Today is meant to be reflective, it's meant to be enlightening, and of course, it's meant to be fun," said Lt. Col. Dean Stulz, the Deputy State Surgeon for the Minnesota National Guard.
The annual suicide prevention event had an expanded focus on wellness this year with resources and activities for service members, their families and members of the community.
Guest speaker Chris Shaw, a comedian, Navy veteran, and executive director of the Heart and Mind Connection, shared his personal message of resilience prior to the start of the run and entertained those in attendance afterwards with his comedy routine.
"I have come to recognize that trauma is the number one thing that underlies most people that are dealing with suicidal ideation," said Shaw.
Shaw pointed out several alarming statistics, including that in 2017 in the U.S. there were 17,184 murders and also in the U.S. in 2017, there were 47,482 suicides and more than 70,000 opioid overdoses.
"There are people out there hurting who are missing some of the key components that make a difference for anyone," said Shaw. "We know that of all the people that die by suicide in any given year, not every one of them has a diagnosed mental health issue. We do know that the common link, the one thread that runs through all these people is that they are dealing with insurmountable amounts of emotional pain and distress."
Before the run, Stulz reminded those in attendance that several pairs of boots were placed along the route, each pair representing a Minnesota National Guard service member who has died by suicide since 2007. He asked that those in attendance take the time while they were running or walking to dial in and be present and to take what they've learned back to share with their friends and families.
"Be aware if someone might need a helping hand, maybe a kind word, maybe they simply need a few minutes or even seconds of your time to make a difference," said Stulz.