Pride in serving in Minnesota's National Guard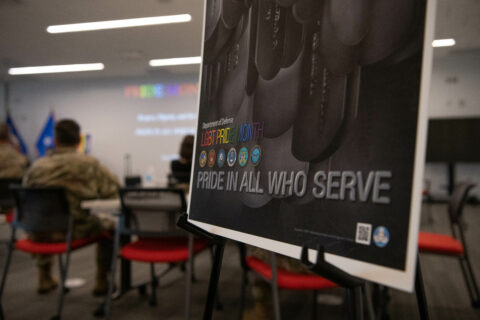 June 2, 2022 (COTTAGE GROVE, Minn.) — "The Minnesota National Guard was the first organization where I felt comfortable enough to come out," said Army Capt. Forrest Jennings, the basic branch recruiter, an armor officer, and advisor for the Minnesota National Guard's LGBTQ+ diversity and inclusion council.
Jennings began his service in Edmond, Oklahoma as a cadet through Reserve Officers' Training Corps in 2009, under the policy known as 'don't ask, don't tell.' He also served with the Oregon National Guard before coming to Minnesota.
"Now that we have a Diversity and Inclusion Council, it shows how far we've come as an organization to including and valuing our LGBTQ+ members of our force," said Jennings.
Jennings believes much work still needs to be done in both the Guard and the state. "Just the other day, I was walking home with my boyfriend; we were celebrating his birthday," he said. "Somebody rolled down the window and yelled the F-slur at us. It always strikes me when something like this happens because the same individual who yelled, if they had seen me walking in uniform, probably would have bought me coffee or thanked me for my service."
One way the Minnesota National Guard is supporting the diverse communities and educating allies is through eight special emphasis councils. The councils aid in building a more diverse and inclusive force that represents the communities where members live, work and serve.
"Our goal is to ensure that all Soldiers and Airmen get the tools and support they need to reach their full potential," said Army Capt. Nic Wiswell, the special emphasis program manager. "How can you lead someone you don't know? As leaders, we need to know our service members, their backgrounds, their struggles, their dreams, their families, their goals for the future."
Wiswell believes that knowing the culture, race, gender, and religious backgrounds of service members is important to understanding who they are to create and sustain an inclusive organization.
"What really changed for me and helped me feel comfortable coming out is that I had mentioned it to a few people, and they reacted positively and just in a normal way," said Jennings. "The junior leaders were supportive of me, and that's what I'm hoping will happen for more and more individuals in the Minnesota National Guard."
The LGBTQ+ council serves as a forum for Soldiers, Airmen, and allies to discuss issues and experiences unique to their lives and bring up concerns to senior leaders within the organization, facilitating shared understanding and camaraderie.
"We hope that every LGBTQ+ member of the Minnesota National Guard feels they are valued, safe and secure," said Jennings. "They can be exactly the person they want to be and be supported by their leaders and by their peers."
Sgt. Mahsima Alkamooneh
Minnesota National Guard Public Affairs