Reception ensures accountability, creates efficiency during brigade training exercise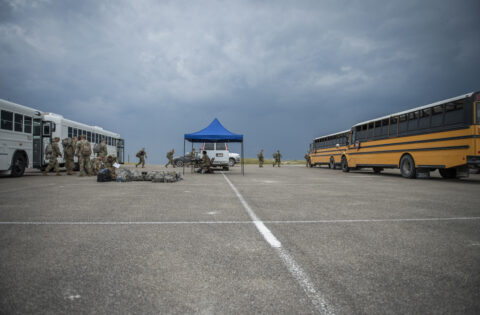 August 3, 2019 (FORT HOOD, Texas) — "We're accounting for the U.S. Army's most important asset – its people," said Capt. Johnny Villarreal, 347th Regional Support Group personnel officer, while poring over a spreadsheet tracking dozens of troop movements for thousands of Soldiers.
"It's an important piece of what a regional support group can provide – reception, staging and onward integration," Villarreal said. "We do this by tracking Soldiers entering a theater of operations, and generating an accurate report for 1st Armored Brigade Combat Team."
The data Villarreal monitors comes straight from the field, where a team camps-out on a hot slab of concrete not far from Killeen-Fort Hood Regional Airport, located in the heart of Texas on one of the U.S. Army's most expansive bases.
"We're getting accountability for everyone that arrives," said Spc. Tena Boterman, brigade personnel specialist, while scanning a stack of common access cards. "We need to know the exact number."
The process is relatively simple, and it starts when Soldiers arrive by plane or bus and are then funneled into a single point of entry. Identification cards are collected, scanned and returned. The accountability report is immediately generated and leadership has a by-name roster of who is on the ground.
"That information feeds all the way up to an expeditionary sustainment command, like we have here in this training environment, or a theater sustainment command, like you would see overseas," Villarreal said.
It's a task central to the role of a regional support group, and for the 347th RSG supporting the 1st Armored Brigade Combat Team during its Exportable Combat Training Exercise, it means tracking thousands of Soldiers, arriving at different times, from different locations, on dozens of flights, over the course of days. After arriving units will consolidate personnel and equipment, and then uncoil their way out into the vastness of Fort Hood to undergo their combat training and maneuver exercises.
Losing track of Soldiers is unthinkable, and for leadership up-and-down accountability is a must. The 347th manages this top-priority task for the 1st ABCT commander responsible for thousands of Soldiers, all the way down to the squad leader supervising her 10-person team.
"By processing-in everyone electronically, it generates the reports that go straight to a higher headquarters, all in one batch," said Sgt. 1st Class Angela Bedessem, brigade personnel non-commissioned officer. "It makes for an accurate count of every Soldier in the training environment, and saves hours of time in reporting and hand-jamming that information one at a time."
And for those Soldiers bearing the Texas heat in a deserted parking lot in the middle of almost-nowhere, the training has real-world importance and prepares them for roles as administrative leaders during contingency operations.
"The process is the same, whether it's a training environment or in a combat theater," Villarreal said. "Commanders at all levels need to have accountability, and that will also feed into other support roles we can provide, like transporting troops when a Red Cross message comes through or any other medical or personal need arises."
Story and photos by Sgt. 1st Class Patrick Loch