Recruiting for Tomorrow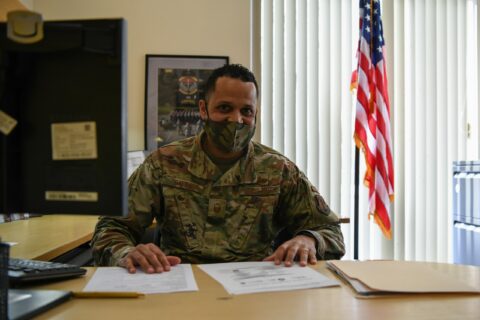 February 25, 2021 (ST. PAUL, Minnesota) — Air Force Master Sgt. Rodney Gattis grew up in California, served on Active Duty, and found his way to the Minnesota National Guard five years ago where he now serves as the Recruiting Flight Chief for the 133rd Airlift Wing. Although many members of the Minnesota National Guard are native to the state, Gattis has felt at home as he and his fellow recruiters reach out in the state to find the Airmen of tomorrow.
"Coming in to the Minnesota National Guard, I thought there would be a transition where I'd be the outside guy, because I didn't start my career off here and I'm not originally from Minnesota," said Gattis. "Maybe it's the 'Minnesota Nice' way of life here, but coming into the Minnesota National Guard, I never felt that barrier that I'm someone who hasn't always been here."
Gattis joined the U.S. Air Force on September 1, 2004, at the age of 23. Like many service members, the education benefits, opportunity to travel, and following in his grandfather's footsteps all held some measure of weight to his decision. However, the need for focus in his life settled the debate.
"Growing up in California, there's not a really big military presence or interest," reflected Gattis. "So I never really thought about it until I realized I needed a new direction and some structure to my life."
In his 16 years of service, Gattis has spent the majority of his time in Security Forces, deploying twice to the Middle East. In 2005, he deployed to Afghanistan where he supported detainee operations at Bagram Air Base. In 2007, he deployed to Baghdad, Iraq, where he served as a member of the International Green Zone Police. He was then stationed at Sembach Air Force Base, Germany, where he became a pre-deployment instructor for U.S. Air Force Armed Forces Europe.
"As a pre-deployment instructor I taught basically convoys, building clearing and all deployment related items that security forces members would go out and do in a deployed environment," said Gattis. "I also became a Raven, so on my non-instructor time, I would fly with the Raven unit there."
The Raven teams are an elite group of security forces that help detect and counter threats to aircraft by performing aircraft security. They fly with the aircrews on mission to provide protection throughout the mission –while airborne or on the ground. All 11 years of his active duty experience lent itself to prepare Gattis for his next role: recruiting.
"I really enjoyed the mission and job as a recruiter," said Gattis. "I love speaking about what I did in my past career and how the applicant can benefit from what the Air Force has to offer."
Gattis began recruiting on the active duty side but transitioned to the Minnesota National Guard five years ago. Since moving to the Midwest, Gattis has led a team of three non-commissioned officers, one of whom, Tech. Sgt. Jeff Sprick, won a regional recruiting award for 2019 and 2020 as the top Air National Guard recruiter for their region of over seven states.
"It definitely makes it easy for me, having good people to lead," said Gattis. "I think them growing up in the Guard and holding a lot of different roles has really helped them to articulate what it is we have to offer out here."
The COVID-19 pandemic has presented a huge challenge to the recruiting team, requiring them to change their routines of visiting community events and schools with large pools of candidates to small group video calls online.
"Ideally to generate applicants you have to get out there in the community, in the schools, and build your awareness as a recruiter, and we haven't been able to do that because of COVID-19," said Gattis. "That's been the biggest challenge for a recruiter because you're stuck to your office and you have to think of out of the box ways to get the word out there."
Despite COVID-19 impacting their work environment, Gattis and the other Minnesota Air National Guard recruiters managed to recruit nearly the same amount of Airmen into the force in 2020 as they did in 2019.
"The coolest thing about recruiting for the Guard is that you can see someone who comes in as a 17 or 18-year-old when they enlist, and then they get their degree, and then they apply to become an commissioned officer, so you can see that progression and the impact you have on the individuals around you," said Gattis.
Story by Sgt. Sydney Mariette, Minnesota National Guard public affairs