Red Bulls celebrate family day at Arden Hills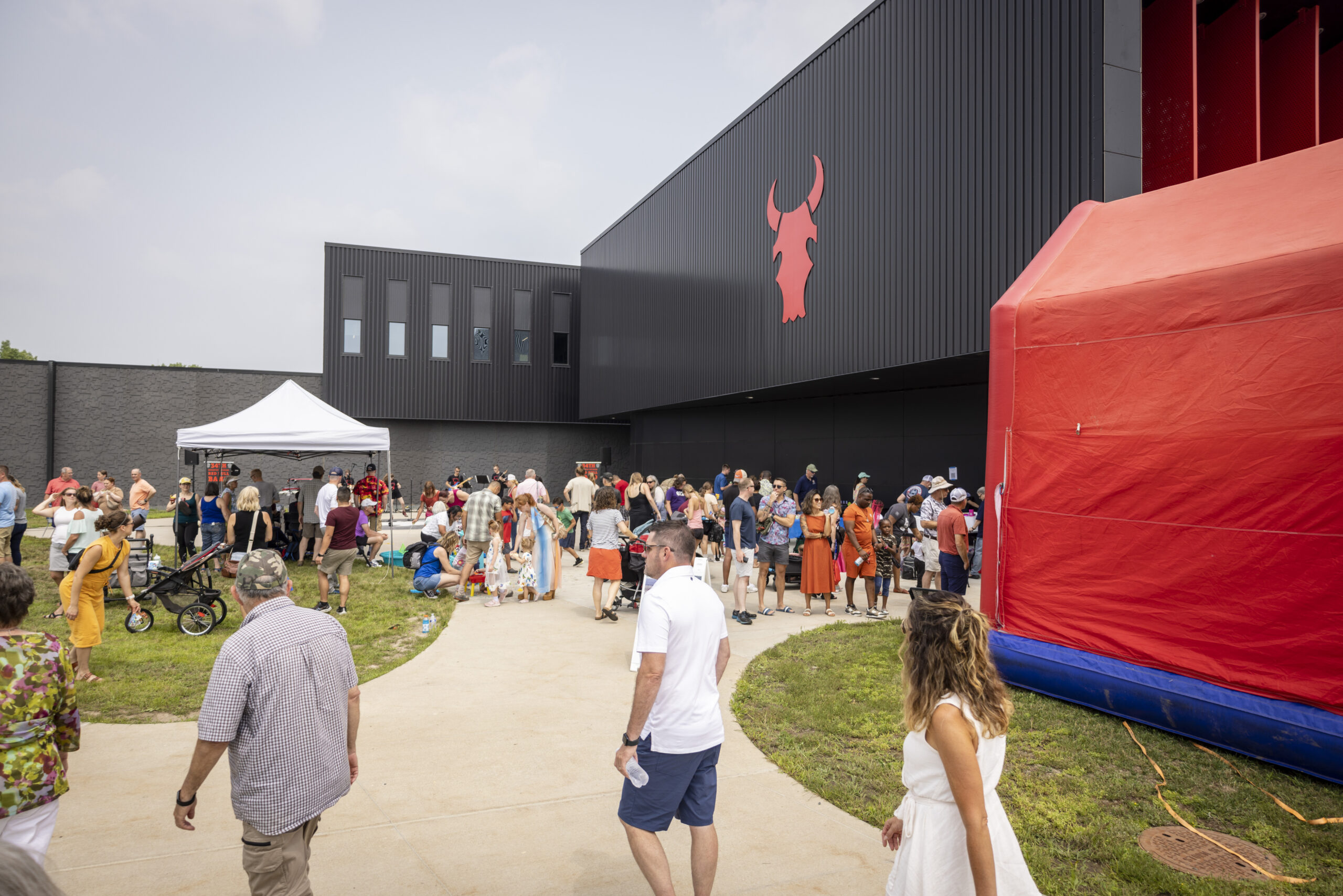 ARDEN HILLS, Minn. — Soldiers know too well that their service impacts not only them, but their family members as well. On July 23, the 34th Red Bull Infantry Division Headquarters and Headquarters Battalion, hosted a family day to honor the support system for service members assigned to them. To kick off the event, Red Bull Soldiers gathered for a time-honored tradition with a twist, a formation in front of their families and friends.
"Headquarters and Headquarters Battalion's Family Day is the most important 'people-first focused' event we run," said Army Lt. Col. Jayson Hackett, battalion commander.
The site of the new headquarters building was buzzing with activity, with this year's event including a bounce house, face painting, rock climbing, a petting zoo, and more.
The Minnesota Building and Construction Trades Council, a Yellow Ribbon company, supported the event with more than 30 volunteers. The council has strong ties to the Minnesota National Guard, dating back to 2019.
"I was given an awesome opportunity to participate in an organization called Serving Our Troops," said Joe Fowler, Minnesota Building and Trades Beyond the Yellow Ribbon Committee member. "[Afterwards], I was energized and began contemplating on how we could do additional positive outreach efforts to show our appreciation for the Soldiers who, along with their families, make huge sacrifices to protect our freedoms as a nation."
In 2022, Minnesota Building Trades, which represents more than 70,000 construction workers in the state, became a Beyond the Yellow Ribbon Company, enabling them to show support for veterans, service members, and their families. With the new partnership in place, the company provided volunteers to cook at the Red Bull Family Day and a similar event hosted by the 133rd Airlift Wing that year.
"Our intentions are simple, to use our power, resources, and influence to do good things for others," added Fowler. "Participating in these events is a way for [us] to give back. It selfishly feeds the soul and lightens the heart, leaving a long-lasting smile on my face for days."
This family day also had emphasis on the families, and the sacrifices that they'd made for the people they care about deeply. The partnership with Minnesota Building Trades enabled today to be a memorable event for many service members and their loved ones.
"We recruit the Soldier, but we enlist the support of the family," said Army Capt. Dat Dang, the company commander of the battalion's Alpha Company. "Family Day is also important to thank our loved ones for supporting us."
Dang, along with his wife and their children, said they enjoyed spending the day with the Red Bulls. Dang also said that his favorite event was the dunk tank, as his Soldiers had the opportunity to throw a ball and dunk him in the water.
Family Day also provided a unique bonding experience for young children of the Red Bull Soldiers who finally got to experience what their parents do on a day-to-day basis.
"I really enjoyed hanging out with my dad and climbing the rock-climbing wall," said Eli, age 9, the son of an Alpha company Soldier.
Red Bull Soldiers and leaders recognize and appreciate all of the time and thought put into planning the family day, Hackett said.
"The efforts all of these supporters put into this day are not lost on any of us," said Lt. Col Hackett. "We're extremely grateful."
Minnesota National Guard
By Spc. Andrew Nayenga & Staff Sgt. Mahsima Alkamooneh