Red Bulls Complete Third Command Post Exercise of 2021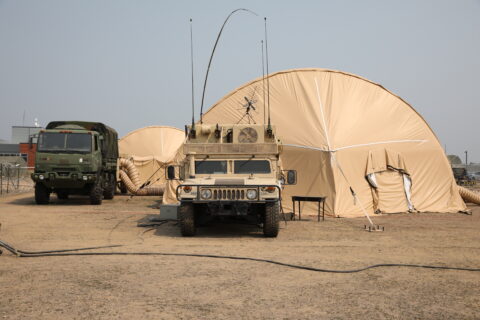 August 17, 2021 (CAMP RIPLEY, Minnesota) — Soldiers of the 34th Red Bull Infantry Division completed their final dress rehearsal at Camp Ripley, August 1-6, prior to taking the stage for a Warfighter Exercise at Camp Atterbury, Indiana, in September.
At each Command Post Exercise (CPX), Soldiers have spent hours refining their practices of setting up tents and satellite terminals, as well as computer and radio communication networks. The repeated testing of these skillsets reinforces that 34th Red Bull Infantry Division continues to be among the most competent and ready units the Army has to offer.
The U.S. Army regularly operates alongside international partners. Training simulations such as the upcoming Warfighter Exercise (WFX) test the capabilities of U.S. Army units and prepares them for operations both with each other and international counterparts.
"Working the through the COMMEX [Communications Exercise], the CPX and then the Warfighter is our crawl-walk-run process," explained Sgt. Maj. Tony Centola, the operations sergeant major for the 34th Red Bull Infantry Division Fires section. "We can go into an operation and understand the system of authorities and there aren't a lot of changes to the operating procedures of mission command, command and control."
CPX 3 brought together units stationed around the globe to build a unique command structure. V Corps from Fort Knox, Kentucky; the 3rd Infantry Division from Fort Stewart, Georgia; 34th Infantry Division of the Minnesota National Guard; 2nd Cavalry Regiment out of Rose Barracks, Germany; along with multiple special purpose organizations from across the active army, Army Reserve and National Guard.
For many seasoned Soldiers, WFXs are just another routine operation. Many junior troops, however, are cutting their teeth in this large exercise.
"I came just at the right time," said Spc. Zoe Holland. At 20 years old, Holland has been a Satellite Communication Systems Operator-Maintainer for just over a year with C Company, Division Headquarters Headquarters Battalion, 34th Red Bull Infantry Division. "I'm still learning and understanding how to troubleshoot but I've gotten a lot of experience with the STT [Satcom Transportable Terminal]."
While warfighting function staffs use Command Post and Warfighter exercises to test their skills in decision-making, these exercises are also opportunities for troops to flex and build their skills in operating and maintaining their equipment, a vital piece of the WFX puzzle.
"These exercises help Soldiers understand their place in the bigger picture," said Centola. "Here they can see how their job, their role, helps the division command post."
In late September, Red Bull Soldiers will convene at Camp Atterbury, Indiana, alongside the units with whom they have been conducting COMMEX and CPXs throughout 2021. Together, they will conduct WFX 22-01, putting the skills of each organization to the test.
Story by Staff Sgt. Linsey Williams, 34th Red Bull Infantry Division