Red Bulls reunite with loved ones after peacekeeping mission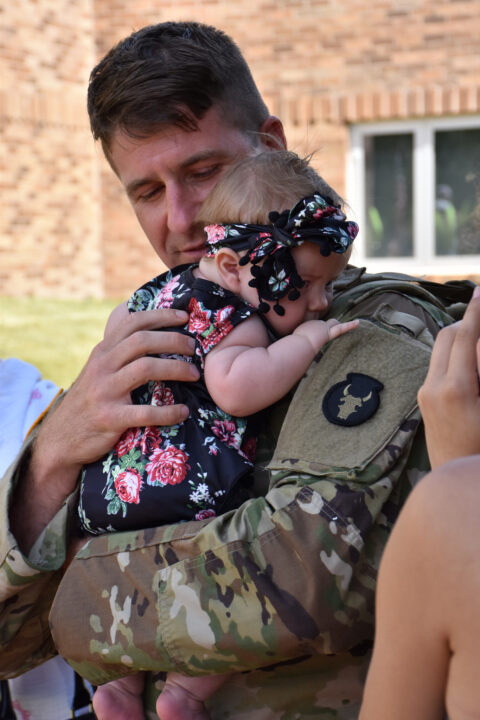 By Sgt. Sebastian Nemec
Minnesota National Guard Public Affairs
BLOOMINGTON, Minn. (June 7, 2017) – The Bloomington Army National Guard Armory was lined with dozens of family and friends, and some dogs, as they awaited the long-anticipated arrival of their Soldiers with welcome home signs, flowers and cameras on June 7, 2017.
After a nine-month peacekeeping mission to the Sinai Peninsula in Egypt, more than 200 Soldiers with 2nd Battalion, 135th Infantry Regiment arrived back to Minnesota.
Signs reading "I could wait forever, but 333 days is enough" and "We're happy you're home!" lined the sidewalk outside of the armory. The family of Staff Sgt. Andrew Hardin, the supply sergeant for B Co., 2-135th Infantry Battalion, waited nervously with a big welcome home banner and the anticipation of reuniting with him after the deployment.
"I'm super excited," said Jasmine Botz, Hardin's girlfriend. "I'm happy he's back home with our family."
Hardin echoed this with a big smile and saying, "I'm very excited to be home."
Also waiting for the Soldiers to arrive was a special dog named Waldo, who was brought to the US from Egypt by 1st Lt. Garith Scherck. Waldo was one of several dogs who the Soldiers befriended overseas, rescued and had brought back to the U.S.
While deployed in support of the Multinational Force and Observers mission, the southern Minnesota "Red Bull" units provided force protection, served as a quick reaction force and contributed to enforcing the 1979 peace treaty between Egypt and Israel.