Red Bulls support NATO partners in France's largest military exercise in decades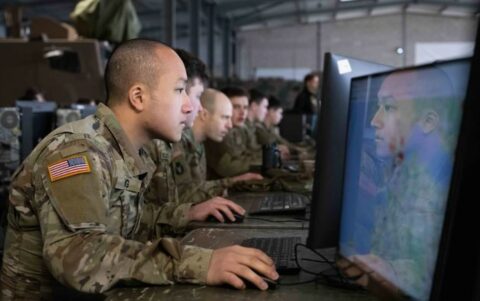 MAILLY-LE-CAMP, France — Nearly 60 Minnesota National Guard Soldiers of the 34th Red Bull Infantry Division, including members of the division's 1st Armored Brigade Combat Team, performed battlefield command operations out of Camp de Mailly, here throughout the last two weeks of April in support of a NATO exercise.
Red Bulls participated in the fourth and final phase of Orion 23 — the largest military training event organized and led by France in over three decades. It culminated with a large-scale multinational and multi-domain operation.
"Exercises like these provide an excellent opportunity to strengthen partnerships and enhance interoperability between U.S. and European allies," said Brig. Gen. Stephen Schemenauer, the division's assistant division commander for sustainment. "Further, realistic scenarios like that which unfolded across the mock battlefield in Orion 23 allow us to develop collective warfighting capabilities."
The exercise was designed to prepare participants for major conflict, and is based on NATO's Skolkan scenario which includes a conceivable, albeit fictitious, narrative to fend off the invading forces of "Mercure" and restore security in the state of "Arnland." Minnesota Soldiers supported the NATO alliance training exercise by modeling the capabilities and operations of a U.S. Army division under Rapid Reaction Corps – France.
Service members from Belgium, Germany, Italy, Netherlands, Spain, United Kingdom, the United States and other allied nations convened for the exercise intended to present challenges of hybrid, conventional and unconventional warfare. In its final phase, Orion included 12,000 troops on the ground and approximately 2,600 tactical vehicles, 60 aircraft, 30 ships, and 100 unmanned aerial systems.
In May and June, Red Bull Soldiers will return to U.S. European Command's area of responsibility to participate in a U.S. Army V Corps-led global exercise conducted by U.S. Army Europe and Africa. The Immediate Response 23 exercise is part of a more extensive combination of coordinated field training and live-fire exercises known together as Defender Europe 2023.
"Minnesota Soldiers have a long history of training and building relationships with NATO allies, including through official partnerships with Norway and Croatia," Schemenauer said. "Orion 23 and the upcoming exercises that make up Defender Europe are great examples of opportunities to sharpen our warfighting acumen and to demonstrate an enduring commitment to our European partners."
Capt. Eric Jungels
34th Red Bull Infantry Division