Red Bulls take command of Minnesota National Guard Operation Safety Net efforts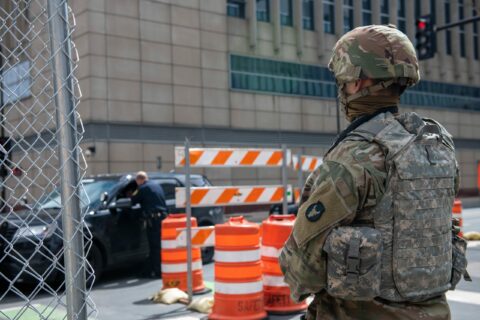 April 17, 2021 (ARDEN HILLS, Minnesota) – The Minnesota National Guard Joint Force Headquarters has transferred control of the Minnesota National Guard's security efforts for Operation Safety Net to the 34th Red Bull Infantry Division. Operation Safety Net is the public safety response to protect lives and property and ensure the ability for people to peacefully protest during the trial of former Minneapolis police officer Derek Chauvin.
"Our Guardsmen have been doing great things in a challenging situation," said Maj. Gen. Mike Wickman, Commanding General of the 34th Red Bull Infantry Division. "I'm proud of their efforts and appreciate their hard work and professionalism."
The Minnesota National Guard is part of the unified command of Operation Safety Net, which includes law enforcement agencies at the state and local level. Planning for the operation began months ago in order to ensure the safety and integrity of the judicial process. The first Minnesota Guardsmen began providing security at the Hennepin County Government Center on March 7.
Minnesota Guardsmen are conducting missions in several cities throughout the metro area by manning traffic control points, providing security for fire and emergency medical services, securing critical infrastructure and local businesses and assisting law enforcement in maintaining peace.
Units from the 34th Red Bull Infantry Division come from communities across the state and encompass nearly all of the soldiers in the Minnesota National Guard. Airmen from the Minnesota National Guard's 133rd Airlift Wing and 148th Fighter Wing have also been activated for this mission and are working alongside soldiers in missions to help maintain peace and stability in the metro area.
The Minnesota National Guard will continue to provide assistance to the state of Minnesota as long as is needed at the direction of Governor Tim Walz. The Minnesota National Guards is committed to ensuring all Minnesotans can safely have their voices heard.