Sgt. Shanice Buckhalton: To serve her country and community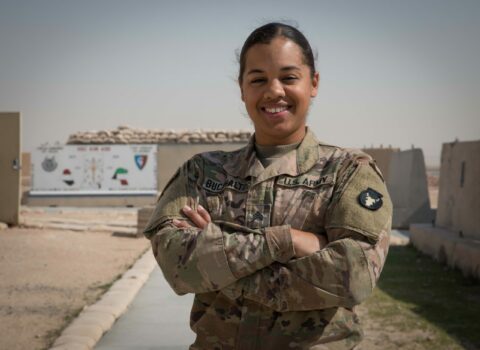 February 20, 2020 (KUWAIT) – As an administration non-commissioned officer for the Headquarters Support Company, 834th Aviation Support Battalion, Sgt. Shanice Buckhalton has a long list of goals to accomplish during her first deployment. While completing her Bachelor's degree in exercise science from Southwest Minnesota State University and fulfilling the 100 volunteer hours she needs for her current and next education level (Physical Therapy Doctorate), she also is embracing the Army Combat Fitness Test (ACFT).
"I feel like it levels the playing field," said Buckhalton, referring to the new physical fitness standard that is no longer gender or age-biased as the current Army Physical Fitness Test is.
"As a unit, I think it will be good for us. I think it's going to get people in shape, and we're going to have better numbers as far as height/weight and [fewer] AFCT failures in the long run," concluded Buckhalton.
Looking to the future, Buckhalton also has goals following the deployment. Besides beginning her doctorate in physical therapy, she also wants to join the African American Heritage Special Emphasis Council, one of the eight councils founded by the Minnesota National Guard's Office of Diversity and Inclusion. The special emphasis councils' mission of promoting diversity and inclusion throughout the Minnesota National Guard by valuing individuals, educating and training our members, and identifying & recruiting the best available talent, hit home for Buckhalton when she attended an outreach event at the Boys and Girls Club of the Twin Cities. While she facilitated a rock climbing wall at the event, she was surprised at how many children were asking her questions, like, "Are you a real Soldier?"
"It was the first event I attended that was made up of primarily black and Hispanic kids, and they'd ask me all these questions like if my uniform was real, and if I'd ever shot a gun, stuff like that. To have little girls that look like you be able to see you [in uniform], means a lot," said Buckhalton.
Having grown up in a predominantly-white suburban area of Shakopee, Minnesota, Buckhalton explained the challenges of growing up with mixed ethnicity.
"It gets confusing growing up when you're half black. It's hard to identify with one or the other completely because you're not really one or the other," said Buckhalton.
Now as a young adult, Buckhalton no longer feels confused about her identity. She is white and she is black. She is a student and she is a veteran. And she wants to share all of that with her unit and her community.
"Sgt. Buckhalton brings leadership, drive, and inspiration. She is the next generation of leadership in the Minnesota National Guard," says Lt. Col. Jeffery Merricks, director of the Office of Diversity and Inclusion. "When we know more about someone within our formation that only makes our
formation stronger. When we build relational leaders, people will eventually follow you because they want to not because they have to. By celebrating heritage months it provides an opportunity to broaden everyone's experience on who or what it means to be an American. I challenge anyone and everyone to expand their vision and learn about someone that isn't like you, whatever that means to you."
During February's Black History Month, Buckhalton has initiated meaningful conversations with her peers and leaders about what black culture means to her.
"Black history month is important to me because although I am aware of it all the time, I think during this month black history and culture is talked about and posted about more frequently, which allows others to learn and think about it as well," said Buckhalton. "I think especially in such a diverse organization as the Minnesota National Guard, it's important to be able to learn and understand things about the people you're serving next to, more than just face value."
Sgt. Shanice Buckhalton's goals are large and small, from learning to play the guitar to becoming the role model to children of mixed ethnicity she struggled to find in her own childhood.
"I feel as though some mixed kids have a harder time understanding their identity. Being able to mentor to those kids, as well as others, through something like the Big Brothers, Big Sisters organization is something I really want to do when I'm home," said Buckhalton.
She plans on joining Big Brothers, Big Sisters and the African American Heritage Council when she returns home in the fall of 2020. No doubt she will do her community and her country proud.

Story and Photos by Sgt. Sydney Mariette, 34th Expeditionary Combat Aviation Brigade Public Affairs NCO