Simulating Change for Real Results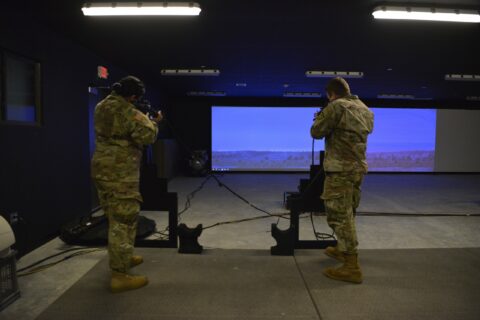 September 4, 2020 (CAMP RIPLEY, Minnesota) – Camp Ripley is host to a broad range of training methods.  From classroom to hands-on to virtual, Camp Ripley provides it all.
Among the virtual methods of training lies Camp Ripley's simulators. Camp Ripley houses a number of simulators throughout post including flight simulators, convoy simulators and battlefield simulators.
Recently Camp Ripley relocated several of their simulators into a new centralized facility on post. The new facility is one of Camp Ripley's new long buildings that replaced the famous "Tin huts" in area 5.
The new building houses three simulators, the Virtual Battlespace, 15-lane Engagement Skills trainer, and the call-for-fire simulators. 
These simulators were previously housed in various other locations dispersed across Camp.
The new centralization of these simulators helps Camp Ripley serve their military units by allowing units to utilize multiple virtual simulations at a single location before moving downrange to utilize the training center's live fire ranges.
"We are looking forward to the versatility this collective facility will give us and the multiple options of support for our customers," said Maj Shawn Frey, Camp Ripley Operations Officer.
Story by Sgt. Andrew Wensmann, Camp Ripley Visitors Bureau
Photos by Spc. Sara Messner, Camp Ripley Public Affairs