State bonding funds will aid in renovations to four Minnesota armories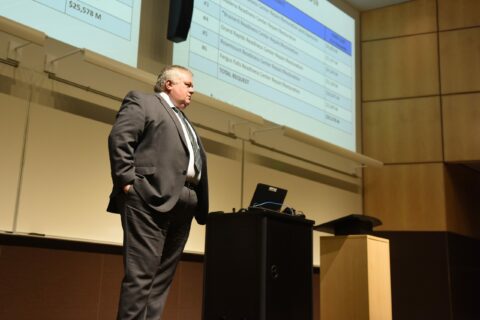 January 27, 2021 (ST. PAUL, Minnesota) — Minnesota's 2020 Bonding Bill, passed by the State Legislature and signed into law by Governor Walz in October 2020, included nearly $12 million for the Minnesota Department of Military Affairs. The funding is for renovations to four Minnesota armories to improve functionality, better accommodate the units assigned and sustain the life of the facility into the future.
"These facilities need modernizing for our force composition and new equipment in order to make most efficient use of our Soldiers' time during training weekends," said Col. Sol Sukut, the Minnesota National Guard Constructions and Facilities Management Officer. "The bonding passed by our legislature is an investment in Soldier readiness for supporting our local, state or federal missions."
Projects are prioritized using both State and Federal facility rating systems to prioritize facilities most in need of repair and renovation to extend their useful life. Facilities that are planned for replacement in the near and mid-term are excluded from consideration in order to maximize the value of bonded funds for long-term sustainment.
All but three of the Minnesota National Guard's 62 facilities are state-owned. These state-owned Army National Guard Readiness Centers [armories] are supported in a split funding method. The federal government will fund up to 50 percent of any given facility sustainment project and, by statute, the state must provide 50 percent in matching funds.
Moorhead's readiness center is 32 years old with failing and inefficient mechanical components. It is home to the 2-136 Combined Arms Battalion and Company C, 334th Engineer Battalion. The building lacks space in administration, supply, arms storage and bathroom facilities, falling 28 percent short of the authorized space required for the assigned unit. $5.35 million in state funds will be directed to address these shortfalls and extend the life of the facility by 30-50 years.
Minnesota National Guard armories in Marshall and Fergus Falls are 64 and 65 years old respectively. Both facilities are uninsulated and require upgrades to exterior windows and doors and fire alarm and suppression systems, as well as mechanical and HVAC systems. The buildings will also require asbestos remediation. More than $5 million in state funding is allocated to renovate both of these armories in order to extend the life of the facilities by 20-30 years.
The 28-year-old Minnesota National Guard facility in Rosemount is the new home of the headquarters for the 1st Armored Brigade Combat Team, 34th Infantry Division. The facility is in need of renovations to address life safety and force protection shortfalls. The mechanical components are at the end of life and, if replaced with energy efficient equipment, would reduce electric consumption by 37 percent. The $1 million in bonding funds for this project will go toward funding the design of this project, with additional funding still required to complete the renovations.
Soldiers who train at these facilities will have better use of training time by having the appropriate conditions for training. Upgrades will include the incorporation of modern IT infrastructure to aid communications and distance learning; latrines and showers for a modern gender-diverse force; upgraded force protection measures to enhance safety; and functional workspaces for administrative actions.
"Bonding is absolutely critical to the Minnesota National Guard in sustaining our facilities," said Maj. Patrick Foley, the Facilities Management Office operations and plans chief. "Bonding is the only feasible mechanism for us to accomplish these facility renovations to extend the useful life of the facility and bring it into code compliance. Bonded funds also allow us to leverage the 50 percent federal share of the project, allowing the state to execute the renovation at a significantly lower cost."
Through strategic planning and prioritization, the Minnesota National Guard maximizes the impact of state funds through investment in the property of the people of Minnesota.
Story by Master Sgt. Blair Heusdens, Minnesota National Guard public affairs