Suarez works to move diversity forward for Minnesota National Guard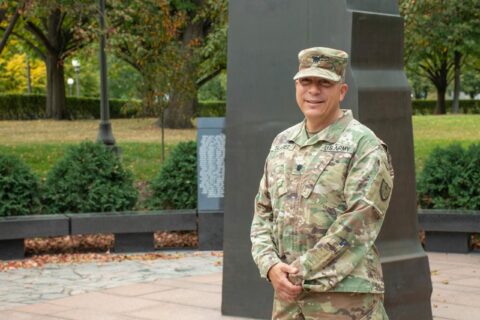 September 28, 2020 (ST. PAUL, Minnesota) – In the months since Lt. Col. Eduardo Suarez took over as the Director of Diversity and Inclusion for the Minnesota National Guard, the organization has been activated multiple times to support local authorities in response to ongoing racial tensions and civil unrest in the Twin Cities metro area.
"We proudly wear this uniform and take our state active duty orders seriously and we will rise to the occasion every single time, but I think you have to balance it," said Suarez. "[Our service members] have feelings; they have opinions; they're tied to communities and we have to ask how they're doing." 
For many of the Soldiers and Airmen of the Minnesota National Guard, some of whom live in the impacted areas, the issues leading to the unrest hit close to home. With a force comprised of 19.5 percent who identify as racial/ethnic minorities and a significant amount of Guardsmen who work in law enforcement, there are bound to be strong feelings.
"We need to be able to have a discussion about these things that are happening in our community today," said Suarez. "I think when we have these discussions, we'll find we have more in common with each other than we don't." 
According to recent demographics data, the state of Minnesota is, like the rest of the country, seeing an increase in the percentage of diverse individuals in the state. Estimates expect that trend to continue.
"Minnesota is changing and we don't have a choice but to acknowledge that," said Suarez. "Just by the nature of doing our job, of putting the Minnesota Army and Air National Guard out in front of the communities and high schools we're going to draw a larger concentration of race, ethnic and gender diverse people to come be part of our organization. In doing so, we have to make them feel like they can be their true selves here, that they're valued." 
Suarez says he had always been aware of his cultural upbringing and ethnicity, but never really wore it on his sleeve. He became involved with the Minnesota National Guard's Hispanic and Latino Special Emphasis Council five years ago and realized that he had been missing an opportunity. It wasn't until another Hispanic gentleman brought it to his attention what it meant for people to see him in this organization as a lieutenant colonel, that he realized he could have an impact on other people in the organization. 
"I didn't realize that my name, my upbringing, my ethnic connection mattered to people, even more so than it did to me," said Suarez. "I realized that I was a role model and didn't even know it." 
The Minnesota National Guard has made improvements in recent years in its ability to recruit members with diverse backgrounds, however, the organization still has work to do to retain those individuals past their initial enlistment. Suarez says that mentoring and building personal relationships with people is one way to let people know that they are valued members of the organization. 
"There aren't enough examples at the higher levels for the junior enlisted and officers to aspire to," said Suarez. "I just think we're missing out on an opportunity there and I didn't realize how much that mattered, because when I looked in the mirror, I didn't see myself that way." 
From 2015-2017, Suarez served as deputy commander of 347th Regional Support Group, one of the most diverse units in the Minnesota National Guard, not only in mission sets, but also in demographics. He uses his experience in that unit as a way to explain the benefits of having diversity on a team. 
"I just think we were better at our jobs; not so much in terms of how we got the mission done, but it was all the ideas that went into how we could do it better," said Suarez. "It was a richer experience. There are more opportunities like that around the state if we put more time into it." 
Moving forward, Suarez would like to focus his efforts on pushing diversity and inclusion awareness down to the lowest levels of the organization. This would include putting an emphasis on conversations at the squad and team level that encourage Soldiers and Airmen to get to know one another and help individuals to feel connected to and welcomed in the Minnesota National Guard.  
"I think it's important that the force understands that this idea of diversity and inclusion, this idea of being an inclusive organization, this idea of soldiers and airmen feeling like they can be themselves and reach their potential isn't going away," said Suarez. "It will take a whole organization approach to improve this over time."