Taking on new heights: Minnesota Guard supports Croatian partners during helicopter donation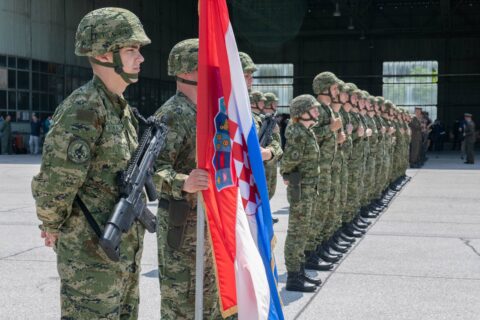 Members of the Croatian Armed Forces, the U.S.'s Minnesota National Guard and dignitaries from both nations held a ceremony commemorating the U.S. donation of two UH-60 Black Hawk helicopters to the Republic of Croatia at the 91st Air Base near Pleso, Croatia on May 25, 2022.
As official partners through the National Guard Bureau's State Partnership Program for more than 25 years, Minnesota National Guard members were honored to stand by their international partners during this pivotal moment in Croatian military history.
"We are excited to be a proud partner in this new capability with our Croatian partners," said U.S. Army Maj. Gen. Shawn Manke, the Adjutant General of the Minnesota National Guard. "This event represents a commitment to maintaining a long-term partnership that supports stability throughout the region."
The Croatian Air Force identified the need to modernize their current helicopter fleet by incorporating NATO interoperable UH-60 Black Hawk helicopters to meet various operational demands. In 2022, the U.S. government delivered two helicopters valued at more than $53 million U.S. dollars to Croatia. When the aircraft arrived, the Minnesota National Guard was ready to support their partners by sending Soldiers from the 34th Expeditionary Combat Aviation Brigade to Croatia to support integration of this new platform into the Croatian Air Force.
"Our goal is to work as partners with the Croatian Air Force to provide as smooth of a transition as possible to a completely new and different airframe," said U.S. Army Col. Greg Fix, the state aviation officer for the Minnesota National Guard. "The Croatian Air Force is a very professional organization with highly trained, skilled, and experienced personnel, so most of the support we have provided has been answering the questions on small details, such as maintenance, parts, and aircrew training programs."
These new helicopters will raise the Croatian Air Force capabilities to new heights by significantly increasing its ability to provide troop lift, border security, counterterrorism, medical evacuation, search and rescue, re-supply, external lift, and combat support.
"The acquisition of UH-60 Black Hawk helicopters makes our NATO ally and partner Croatia stronger and more capable," said Mark Fleming, the U.S. Embassy in Croatia's chargé d'affaires. "We deeply appreciate our close partnership with the Government of Croatia on this acquisition and the Government's commitment to see it through. This is an important joint investment, not just in the capacities and future of the Croatian Armed Forces, but also in our shared security and the U.S.-Croatia defense partnership. We work together constantly to develop and strengthen the tools our countries need to help ensure regional security and support NATO more broadly."
The ceremony recognized a significant achievement for the Croatian Air Force, but also represented what can be accomplished when allies work together. The donated aircraft will improve the security of a NATO partner and allow for increased interoperability between U.S. and Croatian forces for future missions.
"After 26 years of building the long-term relationship between Minnesota and Croatia, our Soldiers have had the opportunity to train with coalition partners, experience cultural exchanges, and we continue to reaffirm our unilateral commitment in the advancement of multinational capabilities," said Manke. "We are fortunate to have the relationship we share with Croatia and the Minnesota National Guard is a better organization because of this partnership."
Staff Sgt. Sydney Mariette
Minnesota National Guard Public Affairs