Task Force 1-194 Soldier Runs With The Torch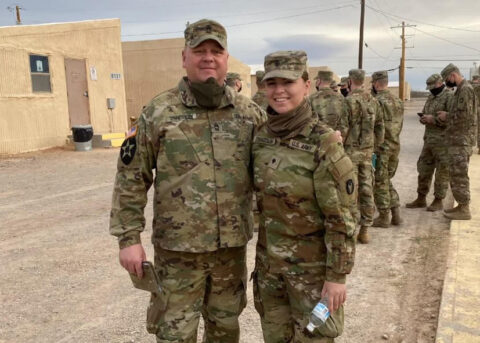 March 10, 2021 (FORT BLISS, Texas) — Spc. Becca Strangstalien of Baxter, Minnesota, graduated from Advanced Individual Training as a unit supply specialist less than seven months ago. In the short amount of time that she has been back, she's found herself preparing to deploy and carrying out the duties of a non-commissioned officer as her unit's lone supply specialist.
Strangstalien is a member of Headquarters and Headquarters Company of the Minnesota National Guard's 1st Combined Arms Battalion, 194th Armor. She is currently stationed at Fort Bliss, Texas, in a unique and demanding position as part of the advanced, or torch, element of Task Force 1-194, preparing for additional soldiers to make their way to Texas in the coming days.
As one of more than 1,000 soldiers from the Minnesota National Guard who are deploying to the Middle East with Task Force 1-194 in support of Operation Spartan Shield, Strangstalien has jumped in with both feet to learn her job and make sure she is ready for what lies ahead.
"I was eager to learn as much as I could about supply before the deployment so I went right on [full-time] orders and started learning as much as possible" she said.
Being surrounded by a great group of Soldiers is also a positive.
"The last month before leaving was very tough for me since I have been without our new supply NCO, but with the help of many incredible Soldiers I was able to learn and navigate the logistical realm in preparation of this deployment."
From an early age, Strangstalien knew she wanted to join the Minnesota National Guard. Much of that desire to serve can be attributed to her father, Master Sgt. Christopher Strangstalien, who is also a logistician and will be on the same deployment.
"I didn't want to do anything else besides follow in his footsteps," she said. At first, she didn't know what to expect working with her dad as the two of them prepare to deploy together.
"When I found out he was going to be deploying as our [battalion logistics non-commissioned officer in charge] I had some mixed emotions," she said. "But knowing how amazing he is at what he does, I couldn't be more happy to have him with me."
With March being Women's History Month, the importance of female Soldiers is not lost on Strangstalien as she prepares to head overseas,
"Growing up, my dad worked with a lot of female NCOs that I met as a little girl," she said. "Seeing how strong and encouraging they were motivated me to be just like them one day. Women have become a force multiplier and have greatly contributed many things to the service, and proven all the things they can provide."
Story by Sgt. Bob Brown, Minnesota National Guard public affairs