Teamwork Makes the Dream Work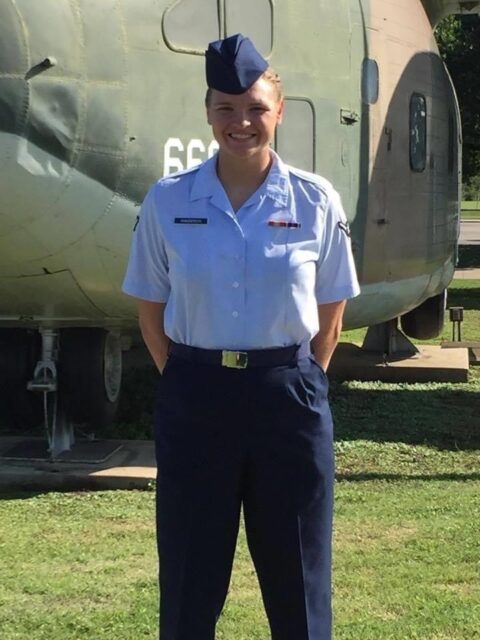 November 2, 2020 (SAINT PAUL, Minnesota) – In 2017, Madison Chadderdon didn't know what to strive for. At the weight of 252 pounds, she lacked goals, confidence and jumped from job to job. She had considered joining the military since she was a child, but the challenge of losing weight made her question if it would be possible. Little did she know, it would become the driving force in her weight loss journey.
Despite being overweight, she decided to meet with a recruiter who confirmed what she feared. The recruiter told her they could give her a meal plan, but besides that, they couldn't help her until the weight was off.
Their honesty about her weight was a wake-up call. She realized that if joining the military was what she wanted, she would have to work for it. She began making small changes in her life, started to select healthier foods, got into running, and later joined a CrossFit gym.
Months after meeting with the recruiter, Chadderdon started to see improvements in her life, she felt more confident, and she was beginning to see the weight come off.
A few months later, Chadderdon received a call from U.S. Air Force Tech. Sgt. Maria Yurczyk, a recruiter from the 119th Wing, North Dakota Air National Guard. Chadderdon's best friend, Halle Austin, believed in her so much that she gave Yurczyk her number as a way to continue to motivate her friend.
The phone call was brief but re-kindled Chadderdon's desire to join the Air Force. A conversation with her uncle, a veteran of the Minnesota Army National Guard, led Chadderdon to reach back out to Yurczyk, hoping this visit with a recruiter could be different.
Throughout the second phone call, Yurczyk asked standard recruiting questions, including one about her current weight. Currently, at 215 pounds, she still had 29 pounds to lose. Chadderdon wasn't sure how she would do it, so Yurczyk offered to follow-up with her weekly to record her weight loss progress. She accepted.
"Chadderdon was full of motivation, had a solid work ethic from the start, and it was easy to sense her heart for service," said Yurczyk. "Applicants like Madie make being a recruiter a fulfilling job. It really is precious how we all can leave an impact on each other."
The accountability had an impact. Week after week, Yurczyk and Chadderdon recorded a decreasing number.
"Finally, I reached my goal of 186 pounds," said Chadderdon. "I was so excited to call [Yurczyk]. After stepping off the scale, I told her, "I did it! I am at 186 pounds. Where do you want to meet and what time?"
Now three years later, a Senior Airman in the U.S. Air Force and a full-time military technician, Chadderdon looks back and sees a different person than her twenty-one-year-old self. Reflecting, Chadderdon knows she could not have completed this journey alone.
"I knew what I wanted to accomplish and that was to join the Minnesota Air National Guard," said Chadderdon. "I had many ups and downs in the enlistment journey, but I never quit. If someone or something tells, you can't do it, prove them wrong with your success."
Story by Amy Lovgren, 133rd Airlift Wing