Technology keeps tactical operations center running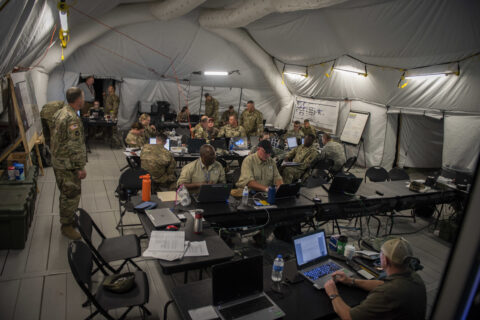 August 10, 2019 (FORT HOOD, Texas) — "It's all about communication," said Chief Warrant Officer 2 Frederick Thunborg, brigade information technology chief. "If you can't talk to people in the battlefield, how do you know what's going on?"
Soldiers of the 347th Regional Support Group, while conducting their annual training in Fort Hood, Texas, are exercising the ability to execute life support, accountability and sustainment functions. Throughout the nearly month-long event, in which support is also provided to nearly 3,500 Soldiers with the 1st Armored Brigade Combat Team, 34th Infantry Division, 347th RSG Soldiers count-on the signal section to ensure reliable communication through use of Joint Capabilities Release, antennas, receivers, servers and both hardline and wireless signals to communicate.
"What we're really doing is getting all of our computer systems linked together," said Capt. Kindahl Larson, brigade signal officer. "This way, we can share one common operating picture that allows brigade staff and sections to work simultaneously."
Working together the equipment and software provide a real-time view of the battlefield, giving brigade staff the ability to instantaneously message or report-out to any unit on the network. Sustaining the flow of information requires hours of work on the front-end, and ongoing maintenance until the mission is complete.
"Throughout the exercise we're troubleshooting for when there are problems like if the GPS goes out, or a software update is needed to provide a patch to the system," said Thunborg.
It's a huge responsibility – given that the ability to effectively communicate is usually the top comment on an after action report – however upgraded equipment is making the job less stressful more user friendly.
"The new AirBeam HDT command center system consolidates lines, reduces wires and increases efficiency," said Thunborg. "For example we were able to run 80 network lines in two hours. Even two years ago, that would have taken two days."
"This new system streamlined installation of not only the digital systems but also the cabling, which in the past was always a challenge figuring out where the CAT-5 cable would go," said Larson. "We no longer have wires draped from the ceiling, taped to the floor … it was a huge mess."
For the 347th RSG an operation TOC supports training for all organic sections, including the 1st ABCT undergoing an Exportable Combat Training Capabilities exercise, and manages information for real world operations like coordinating supply drops and providing medical care to Soldiers.
"If we can set-up this kind of operation in the middle of a field as quickly as we did this time – our whole TOC – we can go anywhere and strike hard because we have visibility and speed on the battlefield," said Larson.
Story and photos by Sgt. 1st Class Patrick Loch