The 34th Infantry Division Bids Farewell to a Key Leader, Trainer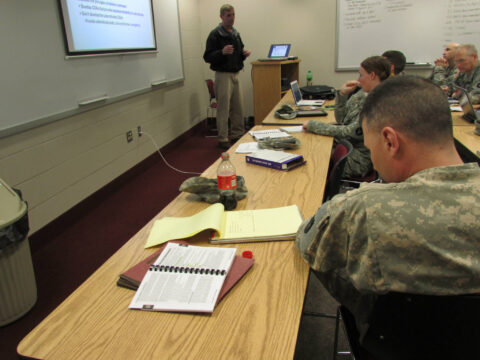 January 30, 2020 (ROSEMOUNT, Minnesota) — Retired Col. John R. Kreye had two distinguished careers in the Minnesota National Guard. He rose from the enlisted ranks to command at the platoon, battery, battalion, and brigade-levels. His military career culminated as the Chief of Staff for Task Force Falcon and Multi-national BDE East in Kosovo. Based on this experience, he continued to serve the Red Bulls as a civilian contractor where he designed training exercises and advised the senior staff.
In 2005, Mr. Kreye was employed as a civilian contractor for Anteon then a succession of companies including General Dynamics, Northrop Grumman, and finally Valiant Integrated Services. His title changed with each institution but the contract to train the senior leaders of the 34th Infantry Division remained the same. As the Officer Senior Trainer, he conducted training for the staff, provided recommendations to the senior leadership, and designed and facilitated command post exercises for battalion through division levels to prepare them for the culminating Warfighter exercise. He also worked with major commands within the division including the 34th Expeditionary Combat Aviation Brigade, the 84th Troops Command, and an aligned for training unit from Wyoming, the 115th Field Artillery Brigade.
Over the course of his civilian career, Mr. Kreye served under seven division commanding generals beginning with Maj. Gen. Rick Erlandson. That relationship was the most influential as the new Officer Senior Trainer role was being defined. "Col. John Kreye was one of the most knowledgeable officers I have ever worked with," said Maj. Gen. (Ret.) Erlandson. "John was a true master of the Military Decision Making Process (MDMP) and was vital to our mission success. His ability to coordinate and integrate a multi-national staff throughout the MDMP process from my intent was outstanding. His understanding and attention to detail in future planning, mission planning, and execution was the foundation of our success as a multi-national task force."
After the initial defining of his advisor role, "every division commander had certain concerns that he wanted me to address with the staff and the exercises," said Mr. Kreye, "each division commander influenced the role and my career quite a bit." Mr. Kreye focused his efforts on the division's changing mission sets as defined by the commanding general. "The biggest shift was when we went back to doing Warfighters in 2014. That was a major shift from stability focused training in preparation for Iraq and Afghanistan and more into the decisive action, offensive and defensive-focused operations. That was a whole new mindset for not only our division but everyone else's division … getting a division ready to go into major combat," said Kreye.
He helped the 34th Infantry Division shift back to this lethal paradigm. "We have a generation of Soldiers who have spent their careers working counter-insurgencies," said former 34ID Commander Maj. Gen. Ben Corell. "Some had a little Non-Lethal Targeting experience, few had lethal targeting experience. As the 34ID prepared for multiple Warfighter exercises, John Kreye provided the mentorship, the right demeanor, and the knowledge to help develop those Soldiers who worked our Division Targeting process and increase their understanding of what the division needed to do in order to shape the battlefield and set up our maneuver elements for the close fight. John was value-added for our organization, always a professional."
Prior to Mr. Kreye's tour, the Officer Senior Trainer job was known as the Commander's Operations and Training Assistant or the Senior Training Advisor. Due to a variety of contracted companies "the duties were the same just the names changed," said Mr. Kreye. With Mr. Kreye's retirement, the Officer Senior Trainer position is open but the division is expected to fill it soon. The 34ID Commanding General Brig. Gen. Michael Wickman specified the new Officer Senior Trainer will need to "understand joint, corps and division operations and the employment of shaping operations that support subordinate brigades, and how to coordinate, synchronize and sequence their operations in time and space." They will coordinate the staff, synchronize fires, and support information collection and targeting to achieve the division commander's objectives.
The Officer Senior Trainer also has an enlisted assistant. SGM (Ret.) Craig Kampsen who manages all of the administrative support requirements and the specialized teams. These teams provide training including power generation, military decision making, and deployable shelters. "He coordinates all that stuff," said Mr. Kreye, "and helps me any time we do an exercise. He's outstanding."
In addition to his military experience, the business degree Mr. Kreye received at Metropolitan State University prepared him to be a successful project manager. "I had a business focus and it taught me a lot about organization, finance, and strategy which helped me a lot with planning exercises and operations." Mr. Kreye has been asked many times, "to what do you attribute your success?" He offers the same advice to students and soldiers alike. He used to believe dedication was the single requirement for success but realized fear of failure provided motivation. "I looked at others who were not that successful and they were all overconfident. So if you have a fear of failure, you are probably going to succeed. As I look at officers over the last 45 years that has been the trend. Those that were overconfident ultimately failed." He also advises leaders not to wait for someone to tell you the answer. "A true leader are those that find the answer themselves."
Mr. Kreye was born in Plum City, Wisconsin in 1954. He graduated from Park Center High School in 1973. He received a Bachelor of Arts from Metropolitan State University and a Masters in Strategic Studies from the US Army War College. He retired from the Minnesota Army National Guard in 2005 with 32.5 years of service and continued to serve the Red Bulls as a contractor for 15 more years.
By Army Master Sgt. Daniel Ewer, Minnesota National Guard Public Affairs