The future looks bright! 179th Fighter Squadron pilot completes weapons school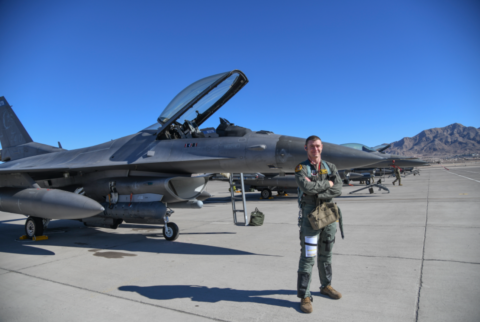 March 9, 2022 | DULUTH, Minn. — The U.S. Air Force Weapons School trains tactical experts and leaders to control and exploit air, space and cyber on behalf of the joint force. Every six months, the school graduates approximately 100 Weapons officers and enlisted specialists who are tactical system experts, weapons instructors and leaders of Airmen.
179th Fighter Squadron, F-16 pilot, Maj. Jason Bright, was one of ten F-16 pilots to graduate from the prestigious Weapons School in December held at the 37th Weapons Squadron, 57th Wing, Nellis Air Force Base, Nevada. Bright, originally from Brown County, Indiana joined the Air National Guard in 2009 after graduating from Indiana State University.
Weapons School consists of 19 Weapons Squadrons at nine locations across the country and represent multiple weapons platforms and Air Force specialties to include the F-16, F-35A, EC-130H, F-15E, F-22, MQ-9, AC-130, MC-130, A-10, Intelligence, Operations Support and Joint Terminal Air Controllers. Only 20 F-16 pilots are accepted into the Weapons School annually which is broken into two F-16-specific six-month classes each year.
Weapons School is a graduate-level instructor course that provides advanced weapons and tactics employment training. During the course, students receive nearly 400-hours of academic training which are then practically applied to intense flying missions. Bright's specific focus was on integrating multi domain capabilities. He was responsible for planning and integrating one of the largest and most complicated mission employment phases ever seen at Weapons School.
"Weapons School provides students the ability to train with other weapon platforms in a training space equipped with threat emitters and simulated threats that you can't replicate at home," said Bright.
179th Fighter Squadron Commander, 2015 Weapons School graduate and former Weapons School Instructor, Lt. Col. Grant Brown said "to be a Weapons Officer, you need to be humble, approachable and credible. The course is designed to make you an expert tactician and integrator. The prerequisites include a dogged work ethic and unwavering commitment to make those around you better. Those are attributes Bright has shown since he was a young flight lead," on why Bright was nominated for Fighter Weapons School.
Bright said he hopes "to build the next person and further prepare the 179th Fighter Squadron for tomorrow's fight and tomorrow's needs," when asked how he planned to use the new skills and experiences he gained at Fighter Weapons School.
As the 179th Fighter Squadron Commander, Brown believes Bright will bring "knowledge of the most recent tactics, techniques and procedures to the squadron, which will in turn, motivate the next generation of Bulldog fighter pilots to become tactical experts."
Weapons School was initially established in 1949 by a cadre of World War II combat veterans dedicated to teaching the next generation of pilots. 73-years later, Weapons School is still advancing today's graduates by teaching in-depth and reflective skills, tactics and scenarios that ultimately improve the Air Force's capabilities. Bright is the 852nd F-16 weapons officer to graduate from the course since the inception of the F-16 division in 1980. The future looks bright.
By Audra Flanagan
148th Fighter Wing