The Importance of Family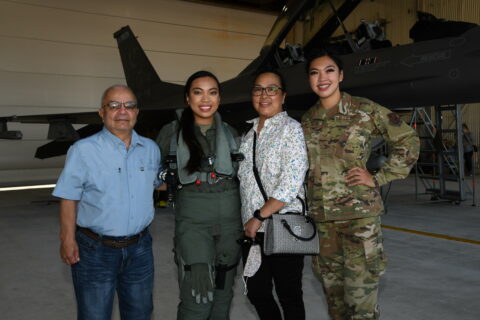 November 2, 2021 (Duluth, Minnesota) Military Family Appreciation Month happens each November. It was established by the Armed Services YMCA in 1996 as a way of recognizing and honoring the sacrifices made by families throughout the Armed Forces.
The 148th Fighter Wing, like other National Guard units, have several family combinations within their ranks. One of those families is the Baltazar sisters who both serve at the 148th and follow in the footsteps of their stepfather.
"Ever since I moved to America from the Philippines with my mom and sister in 2007, my stepfather would always tell my sister and me to join the National Guard due to its many benefits," said Tech. Sgt. Kristel Baltazar, 148th Fighter Wing Medical Group. As years went by the sisters ignored their stepfather when he brought up the National Guard because they saw their lives going in a different direction. However during her senior year of high school Kristel had a change of heart during a trip with her step dad to get Military ID cards. "I remember my stepfather being so loud in the Force Support Squadron telling everyone I wanted to go to this college but couldn't afford it so I guess I wasn't going there anymore unless I join the Air National Guard," said Kristel. Her step dad's tactic worked as this led to Airmen with the FSS telling her what would it hurt to talk to a recruiter. That was the extra push Kristel needed. She ended up talking to a recruiter that day and the rest, as they say, was history.
For Staff Sgt. Krishia Baltazar, 148th Fighter Wing Force Support Squadron, it was a similar story. "My stepfather is a retired Master Sgt. from Civil Engineering and he has always talked about the base. He always told me it's a great place to work, meet new people, develop new skills and get my school paid for. My older sister joined and she's always been my role model so that also played a role in my decision," said Krishia.
Both sisters may have joined primarily to help pay for college, but it has become much more than that. "The atmosphere of serving at the 148th is just different than any other base I've been to. Overall, there are so many good people on base that do amazing things that I want to serve with," stated Kristel. Her sister Krishia continues to serve for similar reasons. "I love my job and the people I work with so much that it never feels like work when I go to drill. When I first enlisted, I thought I would only join for six years but now I can't imagine not going for 20 plus years," said Krishia.
Krishia, who is currently deployed, has been receiving constant encouragement. "I've the best support from my family. They are always checking in on me and making sure I have everything I need…I wouldn't be able to do what I do without their support," stated Krishia.
The assistance we get from families cannot be overstated. In addition to family backing, there are agencies on base that can help military members and families in times of need. The 148th Airmen and Family Readiness Program provides confidential support to all service members, their families and veterans. Some of the services provided include transition assistance, personal financial readiness, emergency family assistance, relocation assistance and deployment readiness. "I stand ready to help all 148th members and their families especially in times of deployment and encourage all Airmen and their families to reach out to me should they need assistance," said Rebecca Chapin, 148th Fighter Wing Airmen and Family Readiness Program Manager. Chapin can be contacted at 218-788-7833.