The Power of Connection: Run brings attention to suicide prevention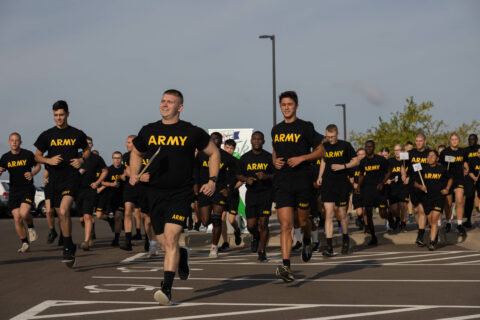 Soldiers, Airmen, families, and community members joined together for a 5-kilometer fun run on World Suicide Prevention Day, September 10, 2023, near the Arden Hills Army Training Site, in Arden Hills, Minnesota.
Each year, the Minnesota National Guard hosts an event known as the Power of One 5K, to bring awareness to suicide prevention by connecting individuals and showcasing different resiliency tools.
"The Power of One is a run that was popular prior to the COVID-19 pandemic," said Megan McEvoy, one of the suicide prevention coordinators. "This year, it was open to the community, family, and friends. We wanted to provide more resources in a generalized area so that people could enjoy beautiful fall weather and learn about things out there that can help them."
The event focuses around connecting with others, connecting with ourselves, and connecting with nature through health and wellness. With a focus on connection, it offers a chance for participants to increase their knowledge on resources, build resiliency, and protect against risks.
"As we nurture our spirituality, our mental health improves, our risk for suicide decreases, our risk for alcohol, substance abuse decreases," said Army Chaplain Capt. Michael Gualke, 34th Red Bull Infantry Division Chaplain. "Our risk aversion also goes down if we nurture our spirituality and connect in that way."
Gaulke, who has witnessed the aftermath of suicide, strongly believes that everyone's story matters.
"I would love for them to come to me," added Gualke. "So that I can hear their story and help."
According to the World Health Organization, the theme for World Suicide Prevention Day was "Creating Hope Through Action," which serves as a powerful call to action and reminder that, through our actions we can encourage hope and strengthen prevention.
For one Soldier, Army Sgt. Sam Scholz, the Power of One wellness event was particularly memorable.
"I've been in the military for almost all of my first contract of six years, been deployed once, lost a couple buddies," said Scholz. "I've lost two friends specifically to suicide. It's a big deal to me."
Once the run was completed, there were several booths staged in the Ben Franklin Readiness Center to offer participants information and other resources that they may not otherwise have known about. Organizations and sections that supported the event included members of the Army Substance Abuse Program, 988 Suicide & Crisis Lifeline, Sexual Assault Prevention & Response, Minnesota Alliance on Problem Gambling, Bill's Wish, the Minnesota National Guard's Holistic Health and Fitness Facilitator Course and others.
"There's a stigma around suicide and mental health in general, not just in military, but in the community," added McEvoy. "And if we can get on top of those positive coping and reducing stressors before it becomes a mental health crisis, that's the best way to handle it."
Instead of focusing on that reaction behavior, McEvoy hopes the suicide prevention program within the Minnesota National Guard continues to become more proactive.
"It's giving you the positive coping skills, resiliency, resources, and just helping you help yourself before you get to that mental health crisis level," she added.
Most people go through difficult times at one point or another. Through connecting with others, they don't have to go through those hardships alone. These resources, among others, can help people become more aware of what to do when faced with a problem.
"The most important thing is, no matter how bad you feel, no matter how hard life seems, or how you don't feel noticed at all," said Scholz. "There's always someone who's going to listen. Find that NCO, or battle buddy, that are going to help you."
Spc. Tyler Becker
Minnesota National Guard Public Affairs