The Power of Human Connections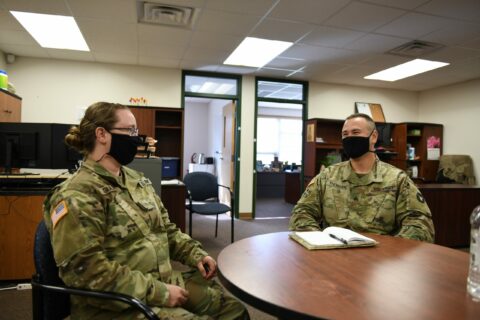 September 18, 2020 (ST. PAUL, Minnesota) — The COVID-19 pandemic this year has required us to physically distance ourselves from others. While good for our physical health, this distance can impact our mental health.
"Relationships are imperative to human connections," said Kristi Charles the Minnesota National Guard State Suicide Prevention Coordinator. "Developing and strengthening those bonds between people – especially in the National Guard – that's important."
To address this concern, the Minnesota National Guard is focusing on making connections during the month of September, which is Suicide Prevention Month. The campaign, which is part of the Department of Defense's larger "Connect to Protect" campaign, highlights the important role that connections to family, friends, the community and resources can play in preventing suicide.
"It's important that we connect with at least one other person or a couple other people so that we can talk to them, share with them if we're going through a tough time or having frustrations, and also be there if they're having a tough time," said Maj. Gen. Shawn Manke, Adjutant General of the Minnesota National Guard.
Research indicates connectedness is a protective factor that can reduce the risk of suicide, while loneliness and feeling like a burden can be suicide risk factors for some individuals.
"When we listen, then we show people that we care," said Maj. Stephanie Christoffels, the 34th Red Bull Infantry Division Headquarters Battalion chaplain. "When we listen, we show that their life has meaning; that they are a person of worth, worthy of dignity and respect."
The Minnesota National Guard is working to help service members build interpersonal relationships and make them feel like they belong by focusing on a suicide prevention curriculum of connections during training throughout the year. Squad leaders and suicide intervention officers at the unit level will facilitate small group discussions that help Guardsmen build connections.
"You don't always have to offer advice," said Manke. "Sometimes it's easier just to lend an ear. Listen to them and then offer support as they work through a situation."
Simple actions like reaching out to a friend and asking how they are doing or checking in with a peer or subordinate inbetween drill can have a significant impact.
If you or someone you know is in crisis, the Military/Veterans Crisis Line is confidential, free and available 24/7 to all Service members, Veterans and their families. Call 1-800-273-8255 and press 1, text 838255 or chat online at www.militarycrisisline.net.