Training and Collaboration Develops Exceptional EOD Airmen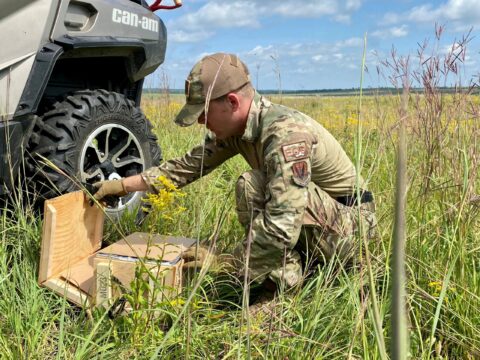 July 29, 2020 (CAMP RIPLEY, Minnesota) — Explosive Ordnance Technicians from the 148th Fighter Wing, Minnesota Air National Guard, 166th Airlift Wing, Delaware Air National Guard and the 177th Fighter Wing, New Jersey Air National Guard gathered at Camp Ripley Training Center, Minnesota, July 20-24, for a field training exercise featuring advanced marksmanship techniques, technical intelligence field analysis, counter improvised explosive object training (C-IED), demolition techniques and area clearance tactics, techniques and procedures (TTPs).
Explosive Ordnance Disposal (EOD) is an elite group of airmen who protect people and property from the effects of unexploded ordnance. They apply techniques and procedures to detect, identify, recover and dispose of U.S. and foreign ordnance including conventional military ordnance, criminal or terrorist homemade objects plus chemical, biological and nuclear weapons. EOD personnel provide support to VIPs, assist civilian authorities upon request and teach military personnel about explosive safety.
"The exercise was designed for airmen to practice and cultivate their skills." said Master Sgt. Mark Hilleren of the 148th Fighter Wing, "The opportunities at regional training sites like Camp Ripley give us additional options to develop exceptional airmen in our career field."
During one scenario, airmen of varying ranks and experience levels discovered rounds of ammunition that did not have identification data. Together, airmen from the three Air National Guard EOD units used technical intelligence field analysis to identify the rounds and develop procedures to render them safe.
This was the first outstate field training exercise for Senior Airman Russell Bongiovanni of the 177th Fighter Wing.  Bongiovanni found "benefits of working with technicians from multiple units to view different approaches to challenges".
EOD technicians devoted a day sweeping an impact area, a designated area where service members or tanks fire live weapons, looking for ordnance. After identifying and marking multiple ordnance, airmen planned safe detonation of the ordnance "keeping efficient use of supplies and time in mind" said Tech. Sgt. Steven Lovan from the 148th Fighter Wing.
Sweeping the impact areas is beneficial for Camp Ripley, the primary training site for Minnesota Army National Guard personnel, as it provides safe access to the area for operations and maintenance. "We have an exceptional working relationship with the Explosive Ordnance
Disposal team from the 148th Fighter Wing in particular," commented Maj Adam Stock, Camp Ripley range Control Officer. "In addition to their cooperation with our ammunition section for the disposal of failed munitions, they provide an invaluable resource clearing unexploded rounds that resurface themselves over time which can pose a potentially dangerous threat to our training area," he added.
"After a week of diverse training opportunities and scenarios, EOD technicians were able to collaborate and practice their skills with multiple units" said Hilleren. "This is the kind of training that enhances mission readiness." he added.
Story and photos by Audra Flanagan, 148th Fighter Wing