Transporting Propeller Hub and Blade Assemblies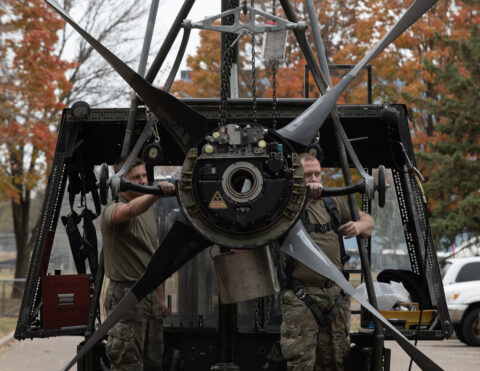 Last year, during an engine run check, maintenance personnel discovered a leak on one of their C-130H Hercules propellers. After further inspection, more cracks were found, and the U.S. Air Force issued a time compliance technical order (TCTO) which grounded the C-130H fleet utilizing four-bladed propellers. The U.S. Air Force had been working on ways to fill the gap to get the fleet back to flying status. One of the developing options was to send suitable propeller hub and blade assemblies to Warner-Robbins Air Force Base.
The Air Force had daily meetings with propulsion engineers and maintenance personnel with the goal of how to mitigate the difficulty.
"[In] those meetings, they were trying to figure out what we could do to start mitigating this issue," said U.S. Air Force Tech. Sgt. Luke Harren, propulsion mechanic, 133rd Maintenance Squadron. "Once they started realizing that there were zero-time propeller blades which could be paired with new hub assembly barrels that were not affected by the TCTO, we started to discuss how to get them there."
The C-130 Hercules fleet at the 133rd Airlift Wing is currently in the second phase of a modernization process, including transitioning from four to eight-bladed propellers. During the inspection process, maintenance personnel inspected all four-bladed propellers and hub assemblies which the TCTO required. The inspection led to the discovery having zero-time four-bladed propellers.
"At that time, we had more than 25 [four-bladed] propellers that were not on airplanes that we needed to go through and inspect," said Harren. "We [found] propeller assemblies that had barrels that were a potential safety risk, but all the propeller blades were brand new or zero-time on them. That's what led the Air Force to start spooling up this convoy down to Georgia."
Knowing the Air Force could use the zero-time propellers, which had passed inspection, organizing the transportation to Warner-Robbins Air Force Base was in the hands of the 133rd Air Transportation Function.
"We already had a skeleton plan for moving the cargo," said U.S. Air Force Master Sgt. Heather Boutin, 133rd Air Transportation Function (ATF). "We contacted the 934th Airlift Wing and the 182nd Airlift Wing. Once given the green light, we knew we could move nine propeller hub and blade assemblies down to Georgia."
The ATF received the green light, the cross-country road trip to Warner-Robbins Air Force Base, Georgia, was finalized. The journey took 2,400 miles, round trip, spread over five days. They transported nine propeller hub and blade assemblies. The total weight was around 12,600 pounds of cargo.
"I felt very fortunate to be trained and skilled enough to make this mission happen on such short notice," said Boutin. "I was able to contribute to the Air Force as a whole and support other units. This is one-team, one-fight so it seemed like the right thing to do. It was an overall a great learning experience and I would definitely do this again if given the opportunity."
By Amy Lovegren
Minnesota National Guard Public Affairs