U.S. Navy Divers Conduct Unique Training under Camp Ripley's Frozen Lakes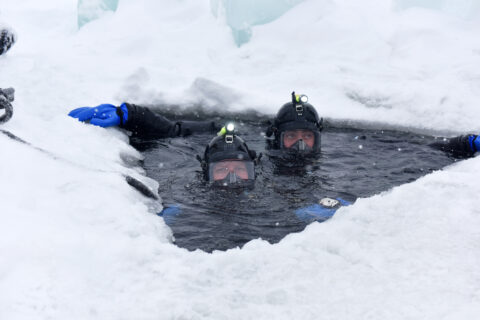 February 14, 2019 (CAMP RIPLEY, Minnesota) — U.S. Navy divers from the Mobile Diving and Salvage Unit Two are utilizing frozen lakes on Camp Ripley to conduct under ice training as part of their annual divers certification program Feb. 5-12, 2019.
"This place is amazing, great support and just the right environment for what we need to accomplish," said Master Chief Petty Officer Jason Wahl, Master Diver for the exercise.
Mobile Diving and Salvage Unit (MDSU) TWO is an expeditionary mobile unit homeported at Joint Expeditionary Base (JEB) Little Creek-Ft. near Virginia Beach, Virginia. They deploy in support of diving and salvage operations and fleet exercises, for all major commands, all over the world.
It's primary mission is to direct highly mobile, fully trained and equipped Mobile Diving and Salvage Companies to perform combat harbor clearance/search and expeditionary salvage operations including diving, salvage, repair, assistance, and demolition in ports or harbors and at sea aboard United States Navy (USN), Military Sealift Command (MSC) or commercial vessels of opportunity in wartime or peacetime.
While training on Camp Ripley, the divers will take part in classroom modules as well as hands-on field training under the water. Their current training environment is in one of Camp Ripley most widely used lakes; ranging from 5 to 20 feet deep with an average ice pack of over 3 feet.
Media are welcome and should contact the Camp Ripley Public Affairs Office at 320-616-3122 or 320-616-2726 Email: anthony.a.housey.mil@mail.mil if interested in covering the training.