Warmly welcomed, U.S. contingent arrives in Norway for NOREX 44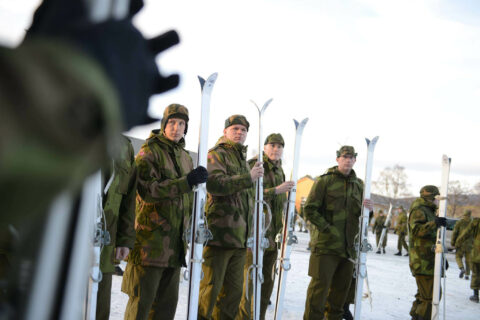 By Staff Sgt. Patrick Loch
Minnesota National Guard Public Affairs
CAMP VAERNES, Norway (Feb. 12, 2017) – Following a muster at the 133rd Airlift Wing and an eight-hour overnight flight across the Atlantic Ocean, nearly 100 Soldiers and Airmen with the Minnesota National Guard finally arrived in Norway to conduct the 44th Norwegian Reciprocal Troop Exchange on Feb. 9, 2017.
While the U.S.-based Soldiers were warmly greeted by members of the Norwegian Home Guard at Camp Vaernes, a similarly-sized group of Norwegian Home Guard members were received at Camp Ripley Training Center. The arrival of military members from both countries to their host nations formally began the annual exchange, which provides a unique opportunity for individuals to become fully-immersed in foreign military and social culture.
"Though I didn't know what to expect before getting here, they have been very welcoming," said Air Force Staff Sgt. Taylor Hanson, a member of the 148th Fighter Wing. "They are making sure we had everything."
After arriving, Hanson and the remaining members of the company making up the U.S. contingent were shown the dining facility, given a few briefs about Norway and the Norwegian Home Guard, and issued Norwegian uniforms and gear. Given a few days before the main training event begins, Soldiers and Airmen have the opportunity to familiarize themselves with wear of the uniform which is specifically designed to combat the polar climate to be experienced in the mountains of Norway.
And though the military experience will be a lifelong memory for the U.S. Soldiers, the cultural and social aspect of the exchange is equally important to both the Americans and Norwegians.
"They are so thoughtful, thinking ahead for us and having planned social events," said Spc. Katie Olsrud, a member of the 34th Military Police Company. "It definitely makes a difference, makes us feel more like we're part of them."
"We want to share our culture, and we want to show our hospitality to the Americans," said Maj. Gard Ommedal, the officer-in-charge for the Norwegian Home Guard instructors. "We want to understand one another's culture, so the bonds between the two countries can continue to grow. Many Norwegians immigrated to Minnesota, and they still have ties here."
While training as part of NOREX 44 is well underway, the main event begins on Monday when the platoons will be transported outside of the comforts of Camp Vaernes to the Norwegian wilderness. During the four-day field exercise, Soldiers and Airmen will utilize their Nordic skis for transport and Norwegian tents, stoves and tactics to survive in the polar mountains.