'We make each other better' Minnesota Civil Support Team protects fellow citizens from disasters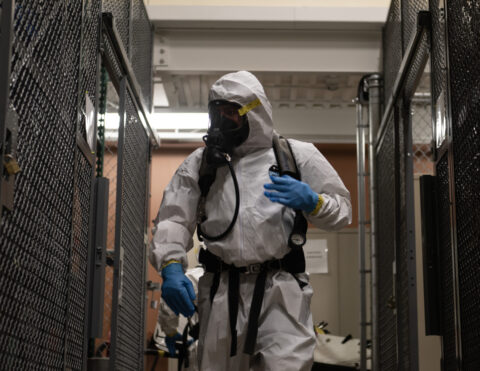 National Guard organizations continue to support dual missions across the world. Serving both federally; trained, equipped and ready to defend the United States at a moment's notice, the Guard also aids local communities — their neighbors — by responding to local emergencies.
Units across Minnesota, both Army and Air, hold true to the National Guard's motto of 'Always Ready, Always There.' For one particular unit, the 55th Civil Support Team, this saying could not be more true.
"The CST was created back in 1998 as a safeguard against [weapons of mass destruction] threats," said U.S. Army Capt. Jeremy Mollinger, nuclear medical science officer, assigned to 55th CST for the last four years. "Our job is to support civil authorities, whether it is law enforcement, public safety, fire departments, if there ever is a domestic [chemical, biological, radiological, nuclear, or high explosive] incident. Eventually that got expanded to include natural and manmade disasters."
Mollinger has served in the Minnesota National Guard for 17 years. He originally joined as an infantry Soldier during college. He later learned he could combine his two passions of science and service by joining the CST.
A typical CST unit is comprised of 22 full time, on call, members, 18 of which are Army and four are Air Force. The unit has six sections: survey, command, operations, communications, medical-analytical, and administration-logistics-decontamination teams.
"Everyone on this team has a very specialized function," added Mollinger. "That requires a lot of training."
There are 57 CST units throughout the states and U.S. territories and all, with the exception of one armed forces reserve CST, are organizations that fall under the National Guard, making the unit unique in many ways. The mission of these units is to support civil authorities at a domestic chemical, biological, radiological, nuclear, or high explosives incident site by identifying dangerous agents and substances, assessing current or projected consequences, advising on response measures, and assisting with appropriate requests for state and federal military forces.
The Saint Paul-based 55th CST is no different from other states, requiring more than 650 hours of hazardous material and high-tech training from various federal and state agencies. Though the unit is made up of Minnesota National Guard service members, who blend in with interagency partners, in their khaki cargo pants, blue polos and black vests.
"Building relationships is super important," added said Air Force Capt. Chad Macheel, the medical officer assigned to 55th CST. "Because we train with these people all the time, we know them, and we know what they're capable of doing."
In the last year, the 55th CST has responded to at least two real-world incidents. One incident involved supporting the FBI, and another involved testing an unknown substance that had been shipped through the U.S. Mail system. Additionally, the CST has had a presence at local events that attract large numbers of people such as a PGA golf tournament, known as the 3M Open, the Minnesota State Fair, and sports games for teams like the Vikings, Gophers, and more.
"We're not being called up to [respond]," added Macheel. "We are there preemptively."
For these events, the unit will typically monitor air quality for chemical agents and seek out sources of radiation to seek out sources of radiation that might be larger than normal, keeping community members safe.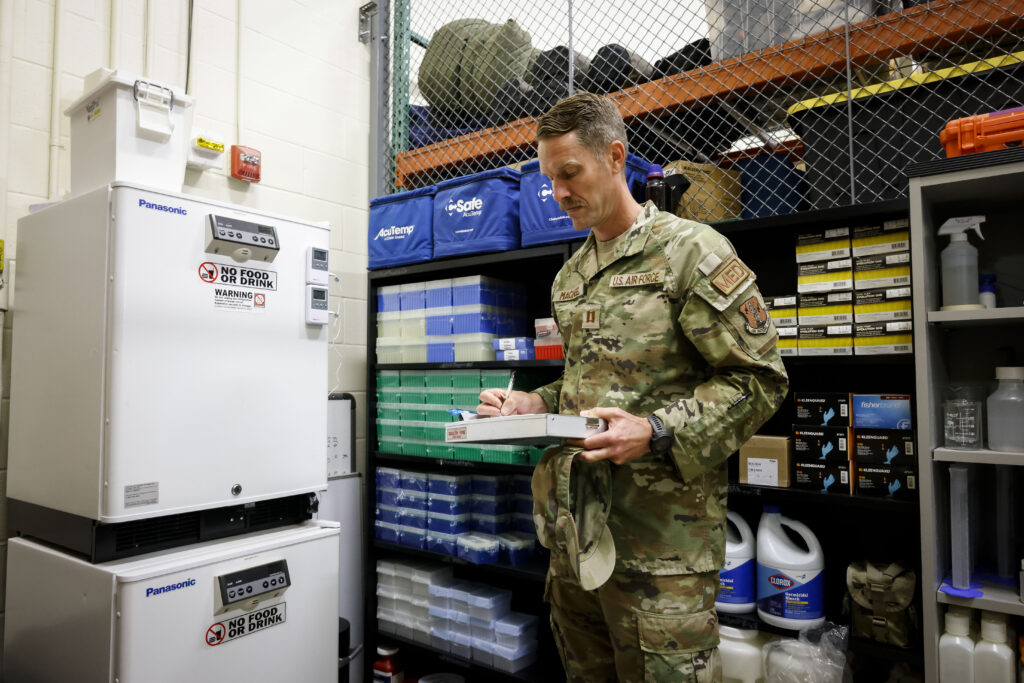 Outside of real-world response, the members of the CST regularly train with interagency partners such as the FBI, state fire marshal, hazardous materials response teams, Minnesota Department of Health, Department of Homeland Security, tribal nations, local police departments, other CSTs and many more.
"They don't always have the same type of expertise that we do, because we're all [hazardous material] technicians and specialize in [weapons of mass destruction and chemical, biological, radiological, nuclear and high yield explosives] agents," said Macheel. "We're able to help them understand how to wear the [protective equipment] appropriately, how to decontaminate appropriately, and how to minimize the risk of spread of these agents so it doesn't end up in the community. We make each other better."
Staff Sgt. Mahsima Alkamooneh
Minnesota National Guard