Women's Leadership Forum highlights leadership and inclusivity in the Minnesota National Guard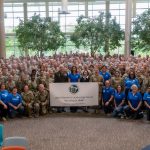 September 10, 2109 (RICHFIELD, Minnesota) – The Minnesota National Guard hosted its 5th annual Women's Leadership Forum Saturday, September 7, at the Best Buy Corporate Headquarters in Richfield. The goal of the event was to empower female leaders within the organization, as well as to provide education to all Guardsmen who lead and mentor female Soldiers and Airmen.
"This has always been a collaborative event made up of volunteers whose passion and commitment has really led this into an incredible event," said Maj. Gen. Jon Jensen, the Adjutant General of the Minnesota National Guard.
Now in its 5th year, the Women's Leadership Forum has become the anchor event for the Minnesota National Guard diversity and inclusion program. The theme for this year was, "Breaking the Mold," and break-out sessions encouraged females to take on non-traditional roles. Additional breakout sessions throughout the day will focus on career development, communication, retention and critical thinking.
Corie Barry, CEO of Minnesota-based Best Buy Inc. was the keynote speaker. Barry is one of just seven or eight female CEOs in the top 100 Fortune 500 companies. She answered questions from the audience and spoke about making connections, work-life integration and the importance of having mentors, sponsors and coaches.
"Stop apologizing for being successful," said Barry. "Stop apologizing for blazing a trail. Stop apologizing for committing your time and energy to doing something great. It doesn't mean that there isn't still guilt. You can not apologize and still have guilt."
Currently, women make up nearly 20 percent of the Minnesota National Guard and are able to serve in all positions in the organization.
"My belief is that this is a journey," said Jensen. "The reason it's a journey is because we're never going to declare victory. We're never going to say that we're done."
Among those things the Minnesota National Guard continues to work towards is the inclusion of women into previously excluded combat positions and improving the Sexual Harassment and Assault Response Program.
"We can't achieve the goals that we want in our organization if people don't feel like they are a full member of the team," said Jensen. "When you look at the Army and Air Force values, the idea of dignity, respect, inclusion and equity, it's embedded in all of that."