Year in Review Part 2 of 3: Modernization proves critical to Minnesota National Guard success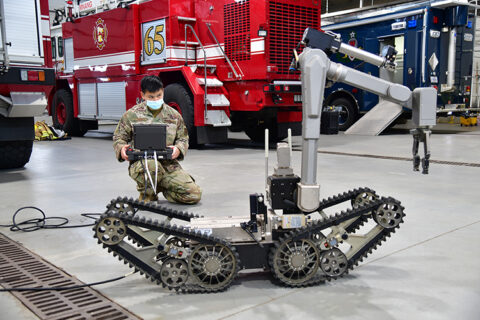 December 15, 2020 (ST. PAUL, Minnesota) — The Minnesota National Guard has prioritized modernization in order to remain a relevant resource for its state and federal leaders. In 2020, the organization initiated significant upgrades in facilities, equipment, training, and staffing.
The Minnesota National Guard needs to "stay in step with the U.S. Army and U.S. Air Force as they transition to modernization," said Maj. Gen. Shawn Manke, the Adjutant General of the Minnesota National Guard. "There are some challenges that we in the Guard will be facing as we move forward. The Air Force is going through modernization of its C130 fleet, we want to try and posture the Minnesota Air Guard to receive C130Js. Part of that is having Airmen that are fully staffed and capable of doing their mission.
"The Army's Chief of Staff, [General James C. McConville], has said the U.S. Army will transition from readiness as a priority to modernization in the future and we want to be part of that plan to stay relevant in our federal mission. Any good Soldier or Airman wants to have the very best equipment so they can do their mission and modernization is part of that strategy," said Manke.
The Army is shifting from nearly two decades of investing resources into counter-insurgency operations to beefing up its arsenal against near-peer adversaries. China and Russia have "aggressively invested in modernized technology and weapons systems" of their own, which has challenged America's overmatch globally, McConville said.
U.S. Army units have followed modernization priorities as outlined years ago. In 2017, the previous Army Chief of Staff, General Mark Milley, established the modernization priorities as long-range precision fires, next-generation combat vehicles, future vertical lift, the network, air-and-missile defense, and soldier lethality.
Facilities
Modern facilities enable Minnesota National Guard to meet state and federal missions. The Minnesota National Guard continues to remodel its facilities to meet functional requirements, but the most significant example of facility modernization is the newly-constructed General John W. Vessey Jr. Readiness Center in Arden Hills. The 149,000 square-foot facility was designed to incorporate all elements of the headquarters battalion into one location to accommodate growth in personnel, equipment and technology over the last decade. The facility was constructed at a cost of $39 million and is designed with sustainability and energy conservation in mind to meet Leadership in Energy and Environmental Design, or LEED, Silver Certification standards. The site includes geothermal systems, photovoltaic arrays, and energy.
Equipment
Up-to-date equipment is vital for the Minnesota National Guard warfighter. Units with specialized missions, like the 55th Civil Support Team (WMD), the 177th Cyber Protection Team, and the 434th Chemical Company, receive cutting edge equipment and training.
In the last year, the 148th Explosive Ordinance Disposal (EOD) team received new equipment that enhances their capability. This equipment includes an upgraded robotics platform called the Telemax made by Telerob. The robot enhances EOD's safety by providing increased dexterity, range, and operational time. The robot also allows for the integration into the shop's new digital X-ray system called the NOVO DR. This system allows EOD to X-ray potentially hazardous items remotely providing immediate radiographic imaging without having to expose themselves to the potential danger posed by improvised explosive devices.
The 55th Civil Support Team updated their Unified Command Suite "to make the unit more capable for all manner of emergency responses" according to Master Sgt. Kristopher Olsen, the unit communications chief. Some of these improvements include new commercial APX 8500 Mobile Motorola radios, upgraded IT Stack including routers, a 4G router and server, and newer military radios.
The unit also received an upgraded Analytical Laboratory System (ALS) vehicle. The updated platform, significantly larger than the legacy ALS, allows for two ALS operators, an additional Class II biological safety cabinet, three computer workstations, a laboratory-grade refrigerator and freezer, a modernized multiplex Polymerase Chain Reaction instrument used for biological testing, as well as a more robust Gas Chromatography-Mass Spectrometry instrument used for chemical testing.
Training
The Minnesota National Guard continues to focus on modernizing training. For example, anti-COVID procedures have affected training at all echelons. The 1st Armored Brigade Combat Team, 34th Infantry Division, participated in a large-scale combat exercise at the National Training Center in Fort Irwin, California, over the summer. The training, which required eight battalions to conduct decisive-action operations as one collective task force, was the first of its kind since the U.S. Army finalized plans to methodically resume exercises for large formations, amid the coronavirus pandemic. The nearly 5,000 Soldiers of the ABCT underwent deliberate training and processing to mitigate the potential spread of COVID-19 including screening, testing and isolation prior to departure from Minnesota. Dozens of additional mitigation measures, like the use of masks, isolating the training unit from the general population and monitoring for symptoms, took place upon arriving and throughout the training at Fort Irwin. The 204th Medical Company Area Support was fully activated to support the brigade's COVID operations. Isolation and quarantine are now routine aspects of training. Upon arrival at NTC, the 147th Human Resources Company directed social distancing and walked soldiers through an individual COVID-19 screening and temperature check before scanning them into the training event. Any Soldier that presented COVID-19 signs or symptoms was immediately either isolated and tested or quarantined.
The 177th Cyber Protection Team personnel received cutting-edge cyber training in discovery and counter-infiltration, cyber threat emulation, and joint cyberspace warfare, according to the State Cyber Action Officer, Maj. Peter Kapelanski. "These courses are continually updated by the provider, which for most is the DoD Cyber Crime Center Cyber Training Academy," said Kapelanski. "Training for commercial IT certifications including CompTIA Network+ ce, CompTIA Security+ ce, Certified Ethical Hacker, Certified Information Systems Security Professional, and various certifications from the SANS Institute. Cyber Protection Team personnel have also trained on the latest versions of specific technical tools and systems, including Red Hat Enterprise Linux, JunOS, Python, RockNSM, and participated in major cyber training exercises including Cyber Shield and Cyber Frost."
Soldiers with Bravo Company, 2nd Battalion, 135th Infantry Regiment, conducted Unmanned Aircraft Systems and Counter Unmanned Aircraft Systems training with the Drone Defender V2, an electronic warfare weapon that is capable of downing and disabling a small Unmanned Aircraft System also known as a drone, said 1st Sgt. Andrew Goodman, the senior noncommissioned officer of Bravo Company. The 15-pound weapon "is designed to defeat the radio control link between a drone and its operator," Goodman said. "It can also disrupt GPS and video feed of a drone. Our forces experienced emerging threats with improvised explosive devices back in 2000," he said. "The better we are prepared now through education and training will save lives in the long run." Goodman said that technology is available for adversaries to weaponize Small Unmanned Aircraft Systems in the form of Improvised Explosive Devices and that the Drone Defender V2 is the first line of protection against these threats, and they help to reduce collateral damage resulting from typical use of firearms to shoot down enemy aerial targets. "Having trained operators ensures quick reaction, appropriate reporting and elimination of potential threats of enemy Small Unmanned Aircraft Systems," he said.
Staffing
Lastly, staffing is key to Minnesota National Guard modernization. As an example of innovative staffing, the U.S. Cyber Command appointed two Minnesota National Guard senior leaders to national positions. The national cyber roles performed by Brig. Gen. Stephanie Horvath and Brig. Gen. Stephen Schemenauer allow the organization to keep pace with national objectives and capabilities.
The U. S. Army directed the 34th Infantry Division to, once again, staff its own division artillery headquarters (DIVARTY). An Army National Guard DIVARTY increases capabilities at the division headquarters by providing long-range precision fires, command and control of division level artillery assets, fire support, and synchronization of Joint Fires.
Story by Master Sgt. Daniel Ewer, Minnesota National Guard public affairs