Youth Platoon Competition brings Comradery to NOREX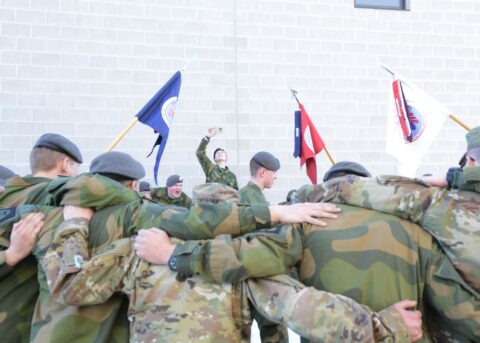 The culmination of the 50th anniversary of the U.S.-Norwegian Reciprocal Troop Exchange saw members of the Norwegian Youth form a large team huddle for one final hurrah at Camp Ripley, Minnesota, on Feb. 14, 2023. With arms slung over the shoulders of fellow service members – both Norwegian and Minnesotan – this truly demonstrates the impact the exchange leaves on individuals after training for two weeks with international partners.
The annual reciprocal troop exchange between the Minnesota National Guard and Norway's Home Guard started in 1973 with a simple handshake between a Norwegian Inspector General and the Chief of the National Guard. The following year saw more than 40 personnel trade places to gain operational and cultural insights, and the exchange has only grown since.
"The human aspect of it (NOREX), even though we have done a lot of military training, weapons, just the human part of it has been very fun," said Eivind Aastorp, a member of the Norwegian Home Guard's Youth Platoon.
The Youth Platoon comprises individuals aged 18 to 20 completing their first contract in the Home Guard. During their time at NOREX, they have competed in a Platoon competition called the North Star Stakes, which tests the individuals in various events. Tasks included orienteering, engagement skills trainer, M-4 and M-17 weapons qualification, biathlon, and lastly, a bean bag toss to decide the winner.
For Aastrop, his favorite event was the biathlon due to the skiing, shooting, and social aspect of the competition. During this year's exchange, he learned a lot, including how to work as a team member while developing a greater sense of what makes a leader.
1st Lt. Alexander Birk, the commanding officer of Youth Platoon, sees similarities between Youth Platoon members and Minnesota National Guard members.
"Despite our differences, we are the same."
Birk was also amazed by the young Soldiers' self-discipline and motivation. They embody the National Guard motto, "always ready, always there." Birk believes there is a significant amount of leadership potential within the Youth Platoon.
The human and cultural aspects of NOREX make it unique and memorable for those who participate and ensures it's longevity for the next 50 years to come.
Story by Spc. Abby Heinen
Minnesota National Guard Public Affairs
---