2/147 AHB, Camp Ripley, and Canadian Lake Superior Scottish Regiment conduct Joint Training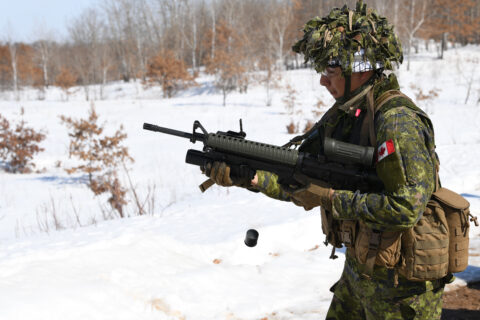 March 19, 2022 (Little Falls, Minnesota)– Camp Ripley is hosting the Canadian Lake Superior Scottish Regiment (LSSR) and 2/147 Assault Helicopter Battalion (AHB) from March 16th until March 20th to conduct joint training missions at Camp Ripley Training Center.
"We are always grateful and excited to have our Canadian Partners train here at Camp Ripley," said Army Brig. Gen. Lowell Kruse, the Minnesota National Guard's Assistant Adjutant General, and Camp Ripley's Senior Commander. "We have a long standing partnership with the Lake Superior Scottish Regiment, and is something we are always looking forward to hosting. Hosting the Lake Superior Scottish Regiment gives their organization a unique training opportunity and the MN ARNG an opportunity to interact with our international partners."
The LSSR trains on Camp Ripley every year and can use various ranges all at once, including the CBRN Chamber, Pistol and Rifle Ranges, Confidence Course, and Platoon/Squad Live Fire.
The 2/147 AHB and LSSR will conduct cold load and hot load aircraft training which consists of detailed hands-on training for LSSR Troops to interact with Minnesota National Guard UH-60M and UH-60L medical evacuation (MEDEVAC) equipment and personnel. LSSR Troops will train to enter and exit an Assault aircraft platform and train on loading and unloading a litter into a MEDEVAC aircraft platform. The culminating event will be an air assault of three squads into the Individual Squad Battle Course (ISBC). LSSR will complete a live-fire exercise at the ISBC then move for MEDEVAC and extraction out of the training area.
The operation will consist of 3 separate missions focusing on air assaulting the LSSR forces into the training area, LSSR performing their infantry squad tactics and requesting a medical evacuation, and the 2/147 performing a medical evacuation event to bring the LSSR Forces out of the training area. The Consul General of Canada based in Minneapolis, Ariel Delouya, will be at Camp Ripley on Sunday, March 20th to visit the LSSR troops and observe the training and the partnership between Canadian forces and American forces while touring Camp Ripley. Mr. Delouya and his office represent Canada in Minnesota, North Dakota, South Dakota, Iowa, and Nebraska, connecting American and Canadian businesses and policymakers, and providing services to Canadians visiting and living in the United States. This will be his first visit to Camp Ripley.

Kruse added, "Camp Ripley continues to work with our partners both domestically and internationally. We have the pleasure of having the Lake Superior Scottish Regiment here to train most years due to their close proximity.