34th Inf. Div. Commander Re-Dedicates Intersection to Fallen Massachusetts WWII Red Bull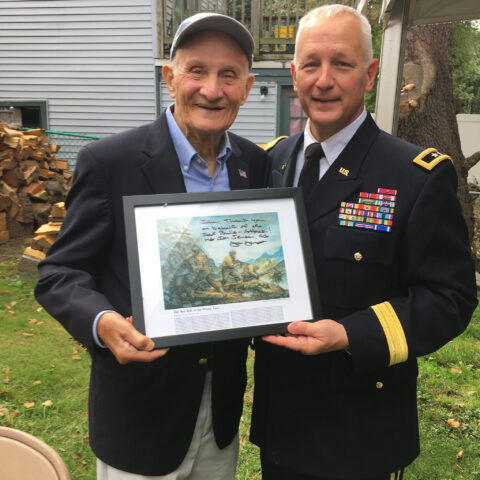 By Col. Kevin Olson
Minnesota National Guard Public Affairs
WINTHROP, Mass. (Sept. 20, 2017) – Settled in 1630, Winthrop is one of the oldest communities in the United States. Service members of all branches of the military from this seaside town just north of Boston have fought on behalf of their state and nation since the Revolutionary War. On Saturday, Sept. 16th, Maj. Gen. Jon Jensen, the commanding general of the Minnesota-based 34th Red Bull Infantry Division, participated in a ceremony that honored one of Winthrop's own: Pvt. 1st Class Andrew Biggio.
Like so many young men of his era, 19-year old Winthrop native Andrew Giovanni Biggio raised his hand to volunteer for service in 1944. He was assigned to B Company, 135th Infantry Regiment of the 34th Infantry Division. An infantryman, Biggio fought valiantly with the Red Bulls, liberating the Italian towns of Viterbo, Cecina and Liverno. His heroic actions in combat earned Pvt. 1st Class Biggio a Bronze Star Medal.
Since the Italian peninsula was essential to the success of Nazi Germany's military efforts, the Nazi regime fortified various west-to-east "lines" across the country as they retreated north. Constructed substantially by slave labor, one of the most impervious was the "Gothic Line," stretching throughout the northern part of the Apennine Mountains. The "Gothic Line" consisted of more than 2,000 well-fortified machine gun nests, bunkers and observation posts.
In the allied attempt to break the "Gothic Line," soldiers of the 34th Infantry Division's 135th Regiment charged up impossibly steep terrain to force the Nazi retreat. It was during this effort that Biggio was killed on Sept. 17, 1944, on Hill 599.
According to Massachusetts State Senator Joseph Boncore, a Winthrop native who represents the area in the state legislature, "In Winthrop, a town of about 17,000 people, there were more than 60 fatalities in World War II." He continued, "It is not uncommon to see intersections or squares dedicated to local heroes, but we rarely take the time to honor those great Americans, and Winthrop is grateful we are doing so today."
Pvt. 1st Class Biggio's namesake, and great-nephew, Andrew Biggio coordinated the event. Andrew, a former U.S. Marine Corps combat veteran in the current-day era of Afghanistan and Iraq, former Veteran Service Officer, member of Post 6 of the Italian American Veterans Association and current Boston City Police officer, was the catalyst for the rededication. "He was eager to fight and serve his country. He was sent to North Africa and Italy." Great-nephew Andrew Biggio continued, "I've read all his letters he sent home. One letter in July said he never wanted to see combat again."
Saturday's gathering of Winthrop's veteran community, town leaders, family members and elected officials commemorated the re-dedication of an official marker at the intersection of Main and Hermon Streets.
Massachusetts Governor Charles Baker reflected during his remarks to the more than 200 people in attendance that citizens should seek out the true meaning and history of those who gave the last full measure for their state and nation.
Maj. Gen. Jensen highlighted the spirit of Red Bull soldiers during his address, citing the centennial of the 34th Inf. Div. and its connection to other divisions founded in 1917, like the Massachusetts-based 26th "Yankee" Infantry. "The 34th Division, while initially comprised of soldiers from Minnesota, Iowa and the Dakotas, expanded to become a division that represented citizens from throughout the nation," Jensen reflected. "Private First Class Biggio, and the entire Biggio family, exemplify the sacrifice that was necessary to liberate Italy during the world's most violent conflict. Private First Class Andrew Biggio honors us all with his sacrifice."
As part of the ceremony, 93-year old Army Pvt. 1st Class Rocco Telese of East Boston, Mass., was awarded a Purple Heart Medal for injuries sustained in the Italian Campaign. Mr. Telese fought with the 85th Division, an adjacent unit of the 34th Inf. Div. during the northward advance in Italy.
The ceremony culminated with Maj. Gen. Jensen, John Biggio, the brother of the late Pvt. 1st Class Andrew Biggio, and other members of the Biggio family unveiling the new sign officially dedicating the square. "This dedication event has been an important event for the community," said great nephew Andrew Biggio. "Our family has felt his loss for decades, and this memorial sign will hopefully inspire current and future residents of Winthrop to reflect on the true cost of armed conflict. As an American, I am inspired everyday by what my great uncle and 'The Greatest Generation' accomplished."