Our partners
Croatia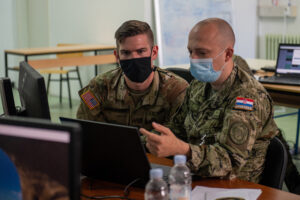 The Minnesota National Guard will mark a significant milestone in its partnership with Croatia in 2021, celebrating 25 years under the National Guard's State Partnership Program.
The National Guard established the State Partnership Program in 1993 to assist several countries in Central Europe during their transition to democracy in the Post-Soviet era. The end of the Cold War marked a decrease in U.S. military's presence in Europe in the 1990s, but provided an opportunity for strategic partnerships with those former Soviet States. The National Guard was a good fit for the mission at the time as it was viewed as less aggressive than sending regular army units.
Minnesota's partnership with Croatia started in 1996 when Croatia was still considered a combat zone for soldiers who travelled there. The relationship began with familiarization events which have over the years developed into hands-on training and military exchanges involving the sharing of tactics, engineer support to rebuild infrastructure in Croatian villages and combined multinational training exercises like GuardEx and Immediate Response.
As part of the State Partnership Program, the Minnesota National Guard provides support with common, shared issues such as homeland defense, civil response, disaster response, humanitarian assistance, support to civilian authorities, peacekeeping operations, border security and, most recently, cyber security.
The National Guard State Partnership program focuses on fostering mutually-beneficial relationships by building trust and understanding of partner nation tactics and capabilities. Those relationships benefitted Minnesota National Guardsmen who deployed to Bosnia in 2003 and Kosovo in 2003 and 2007. Many of the Soldiers who deployed had worked with the Croatians in the past and had an understanding of the culture and traditions of the region.
Those relationships were also solidified in 2008 when the Minnesota National Guard partnered with Croatia to send the first of five Operational Mentoring Liaison Teams to Afghanistan in support of Operation Enduring Freedom. The teams provided support to the Afghan National Army to increase the capabilities of the Afghan Security Forces. In the span of 12 years, Minnesota and Croatia service members went from training partners to allies in combat.
In 2009 Croatia became a full member in the North Atlantic Treaty Organization, a recognition of the transformation that occurred in modernizing their military and moving toward a NATO model. In 2013 Croatia was also accessed into the European Union.
The partnership has also grown to include civilian exchanges between Minnesota state government officials and Croatian government officials and experts from both sides in various fields. The University of Minnesota's Technological Leadership Institute has partnered with the Minnesota National Guard to provide cyber security training in Croatia for the past three years.
The Minnesota National Guard's relationship with Croatia remains important as the United States continues to demonstrate its commitment to security, peace and stability in Europe and to deter further aggression from Russia.