April marks Month of the Military Child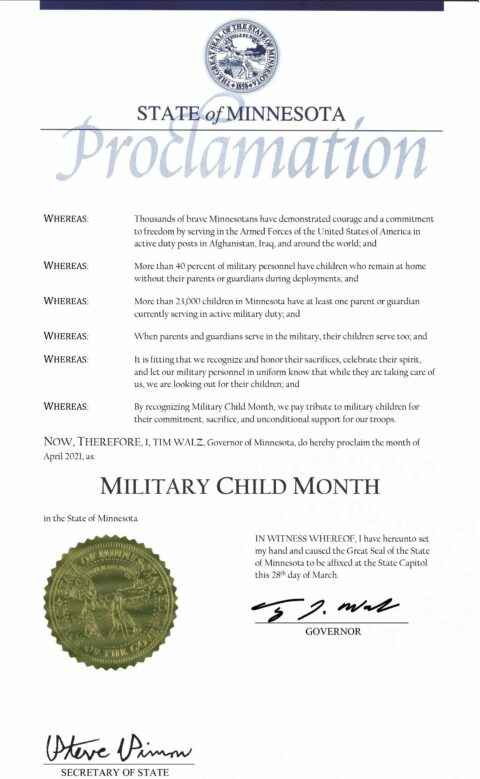 April 1, 2021 (ST. PAUL, Minnesota) — Governor Tim Walz has proclaimed April "Month of the Military Child."  
"By recognizing Military Child Month, we pay tribute to military children for their commitment, sacrifice, and unconditional support for our troops," according to the proclamation.
It is estimated that more than 23,000 children in Minnesota have at least one parent or guardian currently serving on military duty. Today, nearly 2,000 Minnesota National Guard members are deployed and many of them left behind children at home to serve.
The Minnesota National Guard's Child & Youth Program seeks to connect those youth and provide a network of support for them so they know they are not alone.
Due to COVID-19, all events planned by the Minnesota National Guard's Child & Youth Program this year are virtual. Children ages K-12th grade can participate in an art contest or a photo contest. Parents can also register for a letter from Governor Walz by visiting https://mn.gov/mdva/ throughout the month of April.
More information on events and opportunities for military youth can be found at https://minnesotanationalguard.ng.mil/child-youth-and-school-services/ or https://www.facebook.com/MnNationalGuardYouthPrograms/
Media: for more information or to schedule an interview with a military family contact the Public Affairs Office at 651-282-4410 or mn.ng.web@mail.mil.
– About the Minnesota National Guard –
Established in 1856 and headquartered in St. Paul, the Minnesota National Guard has more than 13,000 soldiers and airmen who serve in 61 communities across the state. The citizen-soldiers and airmen of the Minnesota National Guard are 'Always Ready' to fight the nation's wars, protect the country, respond to state emergencies and contribute to local communities. For more information about the Minnesota National Guard, visit https://MinnesotaNationalGuard.ng.mil.