Camp Ripley Hosts Army National Guard Best Warrior Competition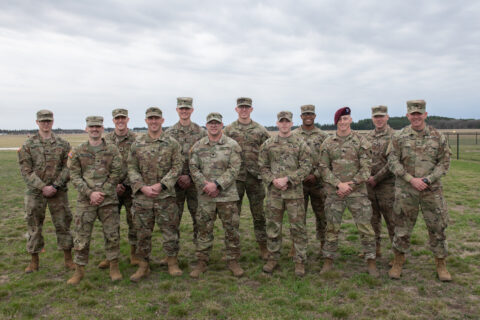 Little Falls, Minn. – This week, Minnesota National Guard's Camp Ripley hosts the Army
National Guard Region IV Best Warrior Competition to find the best of the best
noncommissioned officer and Soldier of the region.

"Camp Ripley is a regional training center, which hosts all types of schools, events, and
competitions, and every time we host, this installation always shines," said Army Brig. Gen.
Lowell Kruse, the Minnesota National Guard's Assistant Adjutant General and Camp Ripley's
Senior Commander.

"The Best Warrior Competition is a great way to showcase the talent and dedication of our
enlisted Soldiers," said Kruse. "Camp Ripley is proud to host the Soldiers from our partner states
and provide them with the state-of-the-art training areas and facilities to perform at their highest
level."

The Army National Guard Best Warrior Competition is a five-day competition that tests
competitors from seven states on their Army knowledge. The competition includes written
exams, essays, in-person interviews, the Army Combat Fitness Test, weapons qualifications,
medical evacuation tasks, an obstacle course, a ruck march, mystery events, and more. The
competition is designed to find the region's best noncommissioned officer and Soldier. The
Region IV winner will advance to compete at the Army 2022 National All Guard Best Warrior
Competition in July at Camp Smyrna, Tenn.

"Minnesota has some of the best warriors in the Army, and this is one way to showcase their
abilities and how hard they train year-round while highlighting Camp Ripley and all of the
capabilities our installation has," said Army Command Sergeant Major Brian Soper, Senior
Enlisted Advisor for the Minnesota National Guard. "Hosting this competition is a testament to
our noncommissioned officer corps. The entire event was planned and executed by enlisted
service members to test and challenge our Soldiers and identify the best warriors of the
Midwest."

NOTE: Media members are invited to attend and capture the competition starting at 10 a.m. on
Friday, May 13th. Camp Ripley staff will escort media to the range where they can capture video
and photos of the competition and interview military members. To RSVP to the May 13th event,
media members must contact 1st Lt. Will Hermanson at william.t.hermanson.mil@army.mil or
651-435-3180.
About the Minnesota National Guard –
Established in 1856 and headquartered in St. Paul, the Minnesota National Guard has more than
13,000 Soldiers and Airmen who serve in 58 communities across the state. The Citizen-Soldiers
and Airmen of the Minnesota National Guard are 'Always Ready' to fight the nation's wars,
protect the country, respond to state emergencies and contribute to local communities. For more
information about the Minnesota National Guard, visit https://MinnesotaNationalGuard.ng.mil.