Camp Ripley Welcomes the 1-125 Field Artillery Battalion's New Artillery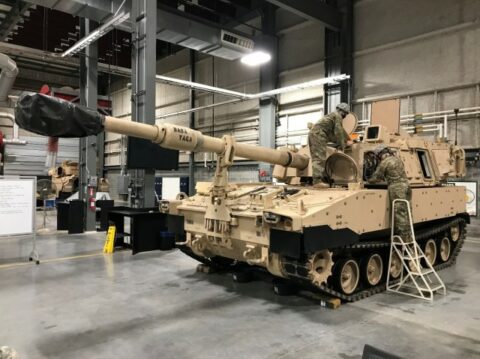 May 23, 2022 (Little Falls, Minnesota) – This week, Minnesota National Guard's Camp Ripley Training Center hosts the New Ulm-based 1-125 Field Artillery Battalion as they test their new A7 Self Propelled Paladin Howitzer on the firing range.

"Camp Ripley has been a host to a number of new weapons and support systems, and every time we do, it provides fresh energy to our State," said Army Brig. Gen. Lowell Kruse, the Minnesota National Guard's Assistant Adjutant General and Camp Ripley's Senior Commander.

"The Minnesota Guard continues to lead the modernization effort; this is a priority for our State," said Kruse. "I am proud of the Soldiers of the 1-125 for their hard work and dedication to make this possible."

The A7 Paladin is the next-generation artillery system, which enhances the ability of the Army to provide critical fire support in conventional and unconventional warfare. The A7 features an upgraded hill, turret, engine, and suspension systems. The body of the Howitzer is similar to the Bradley tracked fighting vehicle. The primary weapon system is the 155-millimeter cannon, which can move even while the Howitzer is in motion. It has an additional .50 caliber machine gun mount for security at every angle. The A7 moves with a 600-horsepower engine, fed by a fuel tank of more than 5,000 gallons.

"This is an exciting time for the 1-125, the State of Minnesota, and the U.S. Army," said Army Lieutenant Colonel Mark Gile, Commander of the 1-125 Field Artillery Battalion. "The new M109A7 is the largest modernization effort the Field Artillery has undertaken in over two decades. We're only the second battalion in the entire Army National Guard to field it. We are excited that this brings us the most modern capabilities available. Our Soldiers are ready to continue to be leaders for the National Guard and Army as a whole."