Jensen takes command of historic 34th Red Bull Infantry Division in its 100th year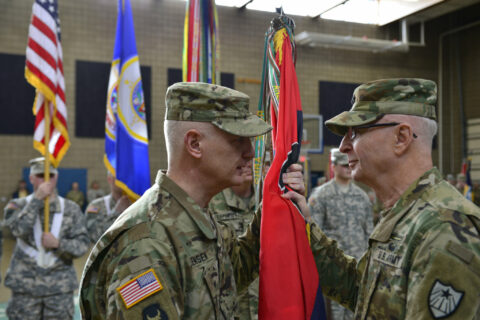 By Master Sgt. Blair Heusdens
Minnesota National Guard Public Affairs
Rosemount, Minn. (Jan. 13, 2017) – Brig. Gen. Jon Jensen, Minnesota National Guard Director of the Joint Staff, took command of the 34th Red Bull Infantry Division, Jan. 8, 2017, as the Division marks its centennial anniversary.
"2017 marks a historic year for the Red Bulls as we begin celebrating the 100th anniversary of the 34th Infantry Division," said Maj. Gen. Richard C. Nash, Adjutant General of the Minnesota National Guard. The Division, then known as the "Sandstorm Division," was created in 1917 from National Guard troops of Minnesota, Iowa, the Dakotas and Nebraska.
Jensen is the second native of Council Bluffs, Iowa, to hold the position and joins a long line of commanders who have led the Division through both of the World Wars up to the current Global War on Terrorism.
Jensen takes over command from Maj. Gen. Neal Loidolt who served as commander for three years and currently serves as the Deputy Adjutant General, Minnesota National Guard.
"Under General Loidolt's command our time-tested reputation for excellence has been maintained in a splendid fashion thanks to the hard work and dedication of nearly 23,000 Citizen-Soldiers aligned for training across eight different states," said Nash.
The Division enters 2017 on the heels of participation in several large-scale, joint and multinational training exercises including Saber Strike, Talisman Saber and Yama Sakura. In 2017 Soldiers from the 34th Infantry Division will continue to participate in these high-level exercises to improve their proficiency and readiness.
"It is now General Jensen's opportunity to lead our exceptional men and women as the Red Bulls prepare to enter a new century of service to our community, state and nation," said Nash. "The next phase of our division's legacy is in your hands. You will have your own unique challenges and opportunities and the ability and authority to move this organization forward and to leave your own legacy."