Minnesota Air National Guard Selects First Female State Command Chief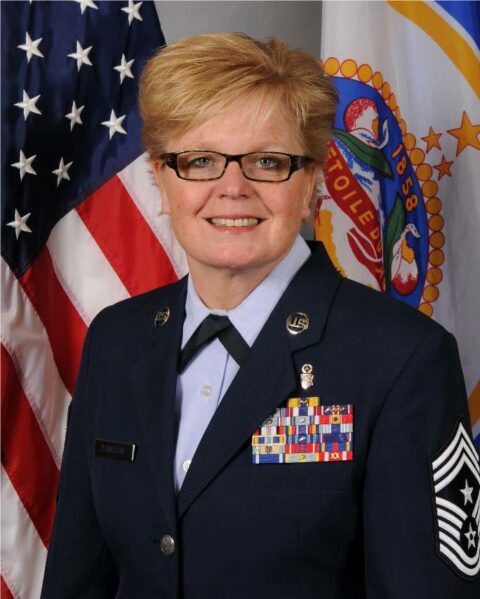 Oct. 18, 2021 (ST. PAUL, Minn.) – Command Chief Master Sgt. Lisa Erikson assumed responsibility as the 14th State Command Chief of the Minnesota Air National Guard on Saturday, Oct. 16, becoming the first female to hold this role.

"You must continue to grow the organization and sharpen the spear, so our airmen are prepared for the next mission," said Maj. Gen. Shawn P. Manke, Minnesota National Guard's Adjutant General, during the ceremony.

"I challenge you to foster a climate that continually looks for ways to raise the bar and rise to the challenge while taking care of our most precious resource, our airmen," added Manke.

As the State Command Chief, Erikson is the most senior enlisted member of the Minnesota Air National Guard and will play an important role in the readiness and development of the force. Her role includes responsibility for the leadership and management of approximately 2,000 Airmen located at two separate wings and one headquarters across the state.

"My priorities are to build relationships to improve the resiliency of the force so we may provide this state and nation a ready force," said Erikson. "I will also provide opportunities for development and growth."

Erikson brings tremendous diversity of experience, having held six very different duty positions throughout her 32-years of service. She began her career as a Jet Engine Mechanic on the C-141 cargo aircraft. She succeeded in this traditionally male career field in a time when there were only 5-6% females in the U.S. Air Force. She transitioned into administrative roles include training manager, personnel systems manager, and 148th Recruiting Office Supervisor. She served as the Senior Noncommissioned-Officer-In-Charge of the 148th Medical Group for 10-years. In this role, she deployed to Kandahar Airfield, Afghanistan, supporting Operation Enduring Freedom as part of the Wing's aviation deployment.

Erikson holds three Community College of the Air Force Associate's Degrees in Aircraft Maintenance Technology, Human Resources and Personnel Administration, and Health Care Management.
Erickson assumed the role of State Command Chief at a Change of Responsibility ceremony in St. Paul. Due to COVID-19 mitigation protocol, the media was not invited to attend the ceremony. Additional photos are available upon request.

Media:
Interviews with State Command Chief Master Sgt. Erikson can be coordinated through Audra Flanagan at 218-788-7365.

About the Minnesota National Guard
Established in 1856 and headquartered in St. Paul, the Minnesota National Guard has more than 13,000 soldiers and airmen who serve in 58 communities across the state. The citizen-soldiers and airmen of the Minnesota National Guard are 'Always Ready' to fight the nation's wars, protect the country, respond to state emergencies and contribute to local communities. News, insights and perspectives from the Minnesota National Guard are available at MinnesotaNationalGuard.ng.mil.