Minnesota Guardsman earns recognition through Leads 2 Enlistment program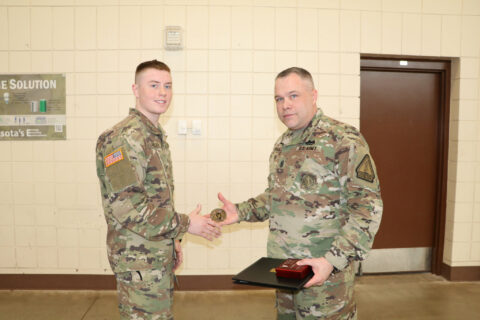 By Sgt. 1st Class Carinda Horton
Minnesota National Guard Recruiting and Retention Battalion
DULUTH, Minn. (March 23, 2017) – Pfc. Trevor Nelson received the Minnesota Distinguished Recruiting Ribbon and a Minnesota Recruiting and Retention Battalion medallion for excellence from Command Sgt. Maj. Curtis Serbus, March 18, 2017, at the Duluth Armory. Nelson earned these awards as part of the online referral system, Leads 2 Enlistment for referring four friends who have joined the Minnesota National Guard.
"I talked to some buddies in my school about the Guard. They liked the benefits, so I put their info in the app and let my recruiter take over." said Nelson. "I thought it would be fun to serve with friends and help them figure out their path in life."
Nelson is currently a senior at Cloquet Senior High School and assigned to the Recruit Sustainment Program in Duluth. He attended basic training at Fort Benning in the summer of 2016 with follow-on training in the summer of 2017 to become an infantryman.
"This is an opportunity for members to help build and shape their units," said Command Sgt. Maj. Curtis Serbus. "By participating in this program, unit members are able to serve with their friends and family members and contribute to a stronger community within the Minnesota Army National Guard."
Minnesota Army National Guard Soldiers can participate in the program by downloading the Minnesota National Guard App, found in their phone app store, and referring potential recruits to the program. When the referral enlists in the Minnesota Army National Guard, Soldiers are recognized with progressive awards that range from a t-shirt to the opportunity to train alongside the state's top recruiters at various locations throughout the United States.