Minnesota Guardsmen tasked for support to Hurricane Irma relief efforts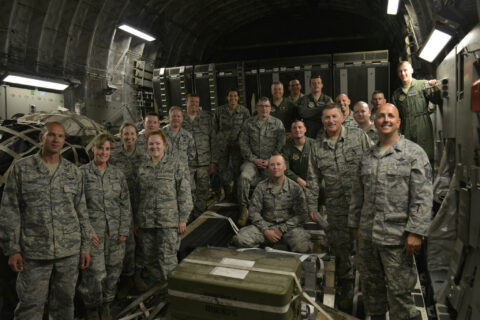 FOR IMMEDIATE RELEASE
September 11, 2017
ST. PAUL, Minn.-This past weekend the Minnesota Air National Guard sent 41 Airmen to support response efforts for Hurricane Irma. Six Soldiers from the Minnesota Army National Guard also departed this morning to support relief efforts.
"I thank Major General Nash for his leadership, and the brave Minnesota National Guard soldiers who will provide assistance in Hurricane Irma response and relief efforts," said Governor Dayton. "I encourage all Minnesotans who are able to contribute to qualified relief efforts. Minnesota stands ready to assist those affected by Hurricane Irma in any way we are able."
The 41 Airmen come from the 133rd Airlift Wing based in St. Paul and have a variety of skillsets. Fourteen of the Airmen are with the unit's Aeromedical Evacuation Squadron and specially trained in emergency medical evacuations. They are currently on standby at Scott Air Force Base in Illinois where they will support potential missions in the Caribbean or Southern United States. The remaining personnel comprised of Airlift Control Flight, Logistics Readiness and Security Forces, arrived today at St. Thomas in the Virgin Islands where they will assist in recovery operations. The Airmen can support airports with skills and equipment to re-establish operations after disasters, secure aircraft and load and unload equipment.
"We have Airmen supporting warfighting missions overseas and now supporting domestic operations," said Col. Dan Gabrielli, commander of the 133rd Airlift Wing. "It's a true Air National Guard unit performing our dual roles in a big way. We've had to be extremely flexible going into what is not a standard operation. It's really good for our Airmen to go out and do the mission they train for in a real environment and it's really rewarding for them."
The six Soldiers come from the 34th Combat Aviation Brigade and are traveling south from St. Cloud with one CH-47 Chinook helicopter to provide assistance in transporting equipment and personnel to support response and recovery efforts from Hurricane Irma. The Soldiers will remain in Mississippi overnight and continue to Jacksonville, Florida, on Tuesday. The unit recently sent two aircraft to Texas for five days in response to Hurricane Harvey where they flew a total of six missions, moving 29,000 pounds of cargo.
"Once again our Minnesota National Guard air crews are ready to contribute to help our fellow citizens in the south," said Col. Shawn Manke, 34th Combat Aviation Brigade commander.
The Minnesota National Guard also prepared a shipment of medical supplies from the warehouse at Camp Ripley which will be transported by the Missouri National Guard to Florida this afternoon.
For photos and b-roll, visit https://www.dvidshub.net/unit/MNNG
For more information on the Minnesota National Guard, visit www.MinnesotaNationalGuard.ng.mil.