Minnesota National Guard activated for flood response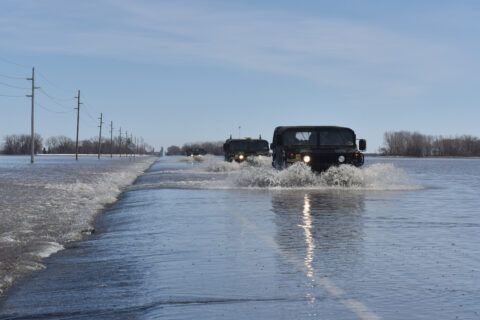 April 13, 2019 (OSLO, Minnesota) — The Minnesota Army National Guard is activated in northern Minnesota in response to flood waters after Governor Tim Walz signed an Emergency Executive Order last night.
Just before midnight on Friday, April 12, 35 Soldiers of the 2nd Combined Arms Battalion, 136th Infantry, reported to Moorhead to prepare for flood response in Oslo. The Soldiers are expected to begin operations today at noon. They will be conducting various operations alongside the Marshall County Sheriff's office and Oslo Fire Department.
Additionally, 143 Soldiers from the 224th Transportation Company, headquartered in Austin, continue to support local authorities by manning traffic control points in Freeborn and Mower Counties, helping to route traffic around downed power lines.
This marks the fourth Peacetime State of Emergency requiring Minnesota National Guard support in 2019. Other winter storm activations include the ongoing winter storm response in southern Minnesota that began April 11, winter storm response February 7-8 in Renville County and February 23-24 in multiple counties. The Minnesota National Guard also provided Emergency Management Assistance Compact (EMAC) assistance to the State of Nebraska, March 19-28.
About the Minnesota National Guard
Established in 1856 and headquartered in St. Paul, the Minnesota National Guard has more than 13,000 soldiers and airmen who serve in 61 communities across the state. The Citizen-Soldiers and Airmen of the Minnesota National Guard are 'Always Ready' to fight the nation's wars, protect the country, respond to state emergencies and contribute to local communities. News, insights and perspectives from the Minnesota National Guard are available at MinnesotaNationalGuard.ng.mil.
Media questions can be directed to the Minnesota National Guard public affairs office at mn.ng.web@mail.mil or 651-282-4410.