Minnesota National Guard celebrates military children in the month of April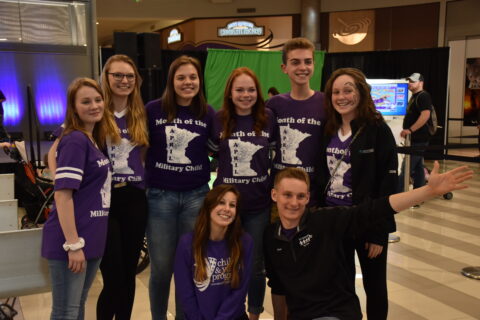 March 31, 2019 (ST. PAUL, Minnesota) – The Minnesota National Guard recognizes April as the Month of the Military Child. Throughout the month there will be several opportunities to highlight the contributions of these children whose sacrifices often go unnoticed.
A celebration to honor Military Children in Minnesota will take place April 12, 2019, at the Mall of America from 12:00 p.m. to 10:00 p.m. Activities will include music by Lucky Diaz and the Family Jam Band, face painting, a photo booth, air brush tattoos and character appearances. The event will take place in the Culinary North Space on the 3rd Floor. Families of service members from all branches are encouraged to attend.
On April 12 and throughout the month, families are encouraged to wear purple to show support for military kids. Tag your photos with #PurpleUpMN to be featured on the Minnesota National Guard's social media pages.
Military families can also participate in a photo contest or an art contest. Details and flyers for the contests can be found at https://minnesotanationalguard.ng.mil/families/.
Parents can register to receive a letter from Governor Tim Walz that recognizes military-connected children for their service and sacrifice. Letters from the governor can be requested by visiting the Minnesota Department of Veterans Affairs website at https://mn.gov/mdva.
The Month of the Military Child was first celebrated in April 1986 under former Secretary of Defense Caspar Weinberger. This recognition reinforces to military-connected youth that they play an integral role in supporting their service member.
Throughout the year the Minnesota National Guard Family Programs office offers events and programs for children and families of service members from all branches. Follow the family programs office on facebook at https://www.facebook.com/MNNationalGuardFamilyPrograms/ for events and special offers.
For more information on all military youth activities this month, visit https://mnbtyr.ng.mil or https://minnesotanationalguard.ng.mil/families/.