Minnesota National Guard's 148th Fighter Wing Unveils 75th Anniversary Heritage Jet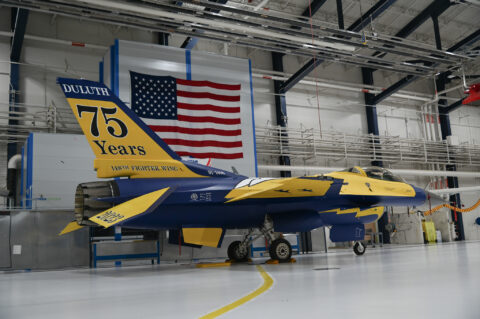 MEDIA ADVISORY: For Immediate Release
June 26, 2023
DULUTH, Minn. Yesterday, the Duluth-based 148th Fighter Wing unveiled its 75th Anniversary Heritage F-16 Fighting Falcon to Airmen drilling this weekend.

"In honor of this milestone, the heritage jet was designed and painted to reflect our unique history," said 148th Fighter Wing Commander, Col. Nate Aysta.

The 148th Fighter Wing will celebrate 75-years of service on September 17, 2023.

A heritage jet is an authorized, designated aircraft with non-standard markings that represent the history of a unit and enhance unit pride. The jet, designed by airmen from the 148th, coordinates with the Wing's official emblem, using blue, yellow, white, and red, and features the winged arrowhead, the Ursa Minor constellation and Phoenix on top of the jet. Other features include 75 years on the tail, the years 1948 and 2023 on the horizontal stabilizers, and two fighter jets and Minuteman found on the official Air National Guard emblem located on the lower side of the wings.

Editor's Note: Media are invited to see the heritage jet and conduct interviews with leaders and Airmen responsible for the jet's design on Tuesday, June 27, 2023, at 11a.m. The 148th Fighter Wing is a secure military installation located at 4687 Viper Street, Duluth, Minn. RSVPs will be required by Tuesday, June 27 by 9 a.m. Members of the media will be required to provide full name, date of birth and place of birth. Please send RSVP information to Audra Flanagan at (218) 788-7365 or audra.flanagan.1@us.af.mil
About the Minnesota National Guard –
Established in 1856 and headquartered in St. Paul, the Minnesota National Guard has more than 13,000 Soldiers and Airmen who serve in 58 communities across the state. The Citizen-Soldiers and Airmen of the Minnesota National Guard are 'Always Ready' to fight the nation's wars, protect the country, respond to state emergencies, and contribute to local communities. For more information about the Minnesota National Guard, visit https://MinnesotaNationalGuard.ng.mil.
-30-