Minnesota Soldier & Family Readiness Specialists
Soldier & Family Readiness Specialists (SFRS) are dispersed throughout the state of Minnesota. They offer resources, referrals, and support to the Minnesota National Guard to enhance the quality of life and well being of service members and their families.
Listed are examples of support and resources SFRS can provide. To connect with an SFRS near you, see the location and contact information below.
Financial
- Free personal financial counselors who regularly work with service members
- Free tax assistance through Military OneSource
- Emergency funds assistance through various organizations
- Access to free financial literacy materials and programs
Home
- Connect with local veteran and community resources for homelessness support
- Home repair and maintenance assistance
Health and well being
- Provide information on a wide range of military-friendly counseling services and resources, including free non-medical counseling through Military OneSource
- Access to free drug and alcohol screening and classes for service members
- Tricare medical and dental insurance information
- Food insecurity support
- Childcare assistance through Childcare Aware
Education
- Military education benefits
- Connections with veteran services through Minnesota State schools
- Information on grants and scholarships for current service members, spouses, and children
Career
- Assistance in connecting with employment placement resources for veterans, current service members, and spouses
- Connect to Employer Support of the Guard and Reserve (ESGR) for employer/employee legal support and employer/employee recognition
- Minnesota National Guard full-time job opportunities
- Hiring resources through the Minnesota Department of Employment and Economic Development
- Federal employment opportunities for veterans, current service members, and family members through USAJobs
For immediate assistance 24/7, call toll free 1(888) 234-1274. Or e-mail ng.mn.mnarng.list.j1-dcs-sfrs@mail.mil. To connect with an SFRS, click here.
For volunteer opportunities, click here. For donations, click here.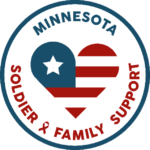 Contact Us
Select a location to view contact information.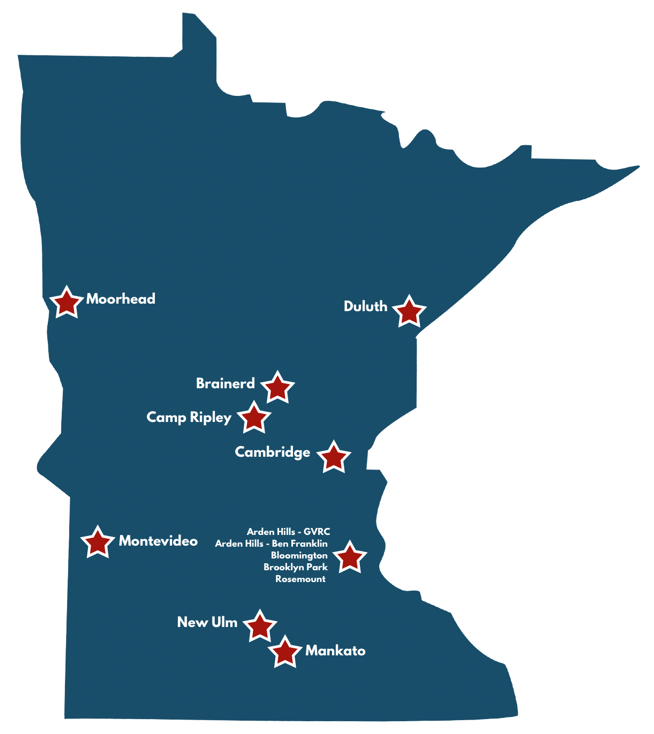 Moorhead
1002 15th Ave. N
Moorhead, MN 56560
(651) 268-8884
Duluth
4015 Airpark Blvd
Duluth, MN 55811
(651) 282-4091
Brainerd
1115 Wright St.
Brainerd, MN 56401
(651) 282-4053
Camp Ripley
15000 Hwy 115
Little Falls, MN 56345
(320) 616-3119
Metro Area
SFRS Lead
600 Cedar St.
St. Paul, MN 55101
(651) 282-4032/268-8538
Arden Hills - Ben Franklin
1536 Ben Franklin Dr.
Arden Hills, MN 55112
(651) 282-4749
Arden Hills - GRVC
4761 Hamline Ave N.
Arden Hills, MN 55112
(651) 282-4055
Bloomington
3300 W. 98th St.
Bloomington, MN 54431
(651) 282-4748
Brooklyn Park
5500 85th Ave N.
Brooklyn Park, MN 55443
(651) 282-4519
Rosemount
13865 S. Robert Trail
Rosemount, MN 55068
(651) 282-4231
Cambridge
505 Spirit River Dr. S.
Cambridge, MN 55008
(651) 282-4031
Montevideo
711 S 17th St.
Montevideo, MN 56265
(651) 268-8388
New Ulm
205 N. Broadway St.
New Ulm, MN 55073
(651) 282-4471
Mankato
100 Martin Luther King Jr. Dr.
Mankato, MN 56001
(651) 268-8413