Minnesota State Fair Military Appreciation Day to recognize women veterans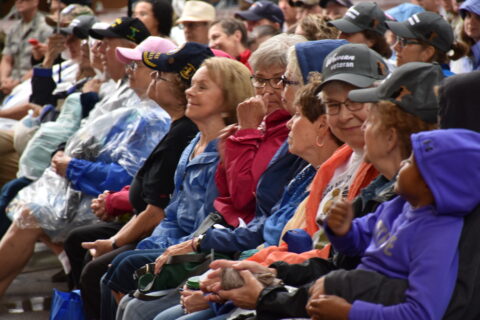 Aug. 27, 2018 (ST. PAUL, Minnesota) — The Minnesota State Fair's eighth annual Military Appreciation Day will take place Tuesday, August 28, and provide an educational opportunity for all fairgoers to learn about Minnesota's military community. This year's theme is honoring Minnesota's women veterans.
"The Minnesota State Fair is a great opportunity to bring our community together to show appreciation for the service and sacrifice of our state's veterans," said Maj. Gen. Jon Jensen, The Adjutant General of the Minnesota National Guard. "This year, I am proud to stand with women veterans as we highlight their stories and contributions to our armed forces."
A program at 9:45 a.m. at the Minnesota State Fair's Leinie Lodge Bandshell will feature keynote speaker Kay Bauer, a Navy nurse and Vietnam veteran. The program will conclude at 10:25 a.m. with a rotary wing flyover from the Minnesota National Guard's 34th Combat Aviation Brigade.
Several activities are planned for Military Appreciation Day at the State Fair this year. There will be nearly 60 educational booths located at Dan Patch Park, along with military and family-friendly entertainment on the Dan Patch Park stage.
The Minnesota National Guard's 34th Infantry Division Red Bull Band will perform at the Leinie Lodge Bandshell at 10:30 and 11:45. The State Fair's 2:00 parade will feature women veterans from several of Minnesota's Yellow Ribbon companies.
The State Fair is offering discounted tickets ($9 rate) for military members, veterans and their families on August 28 with documentation at the gate.
For more information on the Military Appreciation Day at the State Fair go to http://www.mnstatefair.org/general_info/visitor_guide/Military-Appreciation-Day.html.